The Newcastle region has loads of fun playgrounds aimed at a variety of ages from toddler to older school-aged kids. The following playgrounds are great for kids who are crawling or new walkers. These playgrounds offer age-appropriate equipment, baby swings, soft ground coverings, steps they can try to climb up and fencing for those kids who love to run.
Here's our big list of playgrounds in Newcastle, Lake Macquarie & the Hunter which offer equipment suitable for toddlers. We've included parks with shade, fencing, toilet amenities and age-appropriate play equipment.
Laneway Park (Adamstown)
This cute little neighbourhood park has been revamped with modern play equipment and a covered picnic shelter and is perfect for those with babies, toddlers and preschoolers. Read more about Laneway Park.
Lambton Park (Lambton)
Lambton Park features playground equipment specifically for little ones including a slide, activity panels and a xylophone. This is in addition to the rockers, a roundabout, a small play house and a baby swing for preschoolers. Read more about Lambton Park.
Empire Park (Bar Beach)
At Empire Park, there's modern play equipment with a small slide and easily navigable stairs for toddlers. There's a few wobblies including a cute sailboat themed wobbly on which little ones can hang on to the sail and bounce. Read more about Empire Park.
Connolly Park (Carrington)
If you're looking for a playground in Carrington, visit Connolly Park playground next to the tennis courts. It features small climbing equipment with a slide and a set of swings (regular and baby). Read more about Connolly Park.
Whitebridge Park (Whitebridge) – FENCED
Looking for a fenced playground for younger kids? Check out Whitebridge Park. The playground features swings (regular and baby), play equipment with slide, a climbing wall and a musical feature for kids to bang on. There's also a couple of wobblies. Read more about Whitebridge Park.
Toronto Foreshore (Toronto) – FENCED
You've got to love a fully fenced playground with views of Lake Macquarie! Younger kids will enjoy the cute little playground equipment with a replica boat for them to ride in. Read more about Toronto Foreshore Park.
Pelican Foreshore Park (Pelican) – FENCED
Pelican Foreshore Park is another fenced park and features play equipment for the younger set. There's a wobbly, small slide and climbing wall for young kids as well as a toddler swing. Just be aware that you will need to supervise your kids as there are some spots on the play equipment which are open to below. There's also lovely views of Lake Macquarie from the park. If kids need a break from the playground, walk down to the beach and watch the numerous pelicans who call this place home. You can also swim at the beach when the weather is warm. Read more about Pelican Park.
Maitland Park (Maitland) – FENCED
Maitland Park is an expansive area of parkland encompassing sporting fields, picnic spots, tennis courts, croquet lawns and a swimming centre. It also features the Magic Garden, Maitland Park's All Abilities Playground. The gated playground with softfall rubber flooring features fantastic play equipment for kids of all ages including three sets of swings, xylophone, flying fox, batwing carousel and toadstools. Read more about Maitland Park.
Islington Park (Islington)
Another playground with softfall covering, Islington Park is a fun place to take little ones. The playground includes your traditional swings and well as a very fun flying saucer swing that mums can climb in with their tots. There are things to climb over and under, around and through including a climbing structure, play equipment with slides, a boat and a colourful sculpture. Read more about Islington Park.
Warner Park (Warners Bay) – FENCED
Warner Park has recently been revamped. For younger tots, there's also a dedicated toddler area with softfall flooring and lots of age-appropriate equipment. Plus, it's fully fenced. Read more about Warner Park.
King Edward Park (The Hill)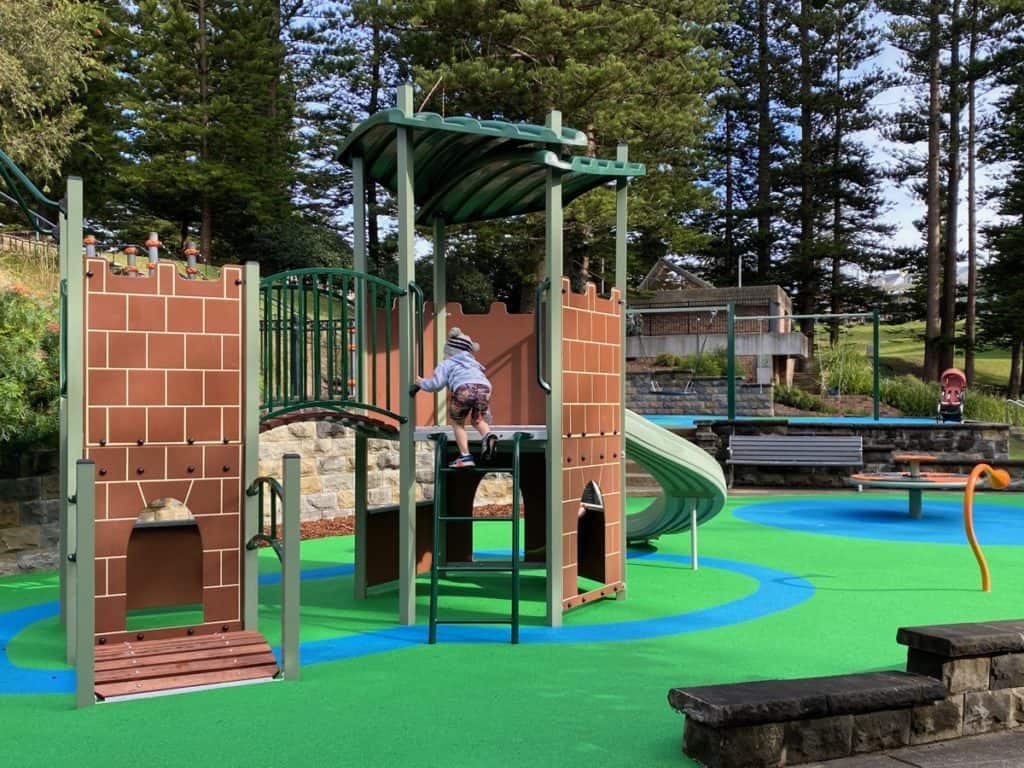 The new equipment and softfall base at King Edward Park is perfect for toddlers and preschoolers. The castle-themed climbing equipment features a bridge, slide, ladder and cubby area – all the things little ones love. The ocean views and shaded, grassy areas are an added bonus. Read more about King Edward Park.
Novocastrian Park (New Lambton)
If the slides and climbing equipment at the revamped Novocastrian Park don't wear your little one out they have the large adjoining field to run around on. The low rock-climbing wall is suitable for under-6's and the swings have rubber matting underfoot. Read more about Novocastrian Park.
Ambleside Park (Lakelands)
With lots of equipment to suit toddlers and preschoolers including swings, digger, seesaw, a spinner and climbing equipment, Ambleside Park also provides plenty of seating for parents and carers via the sandstone blocks surrounding the park. Extra care is required as the park is close to a pond and road. Read more about Ambleside Park.
Carrington Street Reserve (Wallsend)
Little ones will love climbing on and over the brightly coloured balls at this new park on the western side of Wallsend. With a baby swing, round net swing, X and O's, a spinner, seesaw and loads to climb on, it's a perfect park for the 0-7 year olds. Read more about Carrington Street Reserve Park.
Henderson Park (Adamstown)
Henderson Park is a lovely quiet suburban spot in Adamstown with shade and plenty of grass for kids to run around. There's a great playground with a climbing structure complete with slides and a little shop, swings, wobblies and even a sandpit with a mechanical digger! Read more about Henderson Park.
Raworth Park (Raworth) – FENCED
It's worth the extra drive to Raworth (near East Maitland) for the great, fenced park located here. The pretend playhouse with climb-through tunnel is a hit with littlies and the well-shaded toddler playground boasts two small slides, stairs and lots of rope structures to climb on. There's an undercover BBQ and picnic table outside the fenced area and it's right next door to the off-leash dog park, so you can bring your furbabies too. Read more about Raworth Park.
Pasterfield Sports Complex (Cameron Park)
There's so much to keep toddlers entertained at this park. From the 'Fort Pasterfield' climbing structure with slides and more to the musical instrument section, spinner and wobblies. With clean toilets, shaded tables, BBQs and water fountain, this park is a great meeting place for those with toddlers as well as older kids. Read more about Pasterfield Sports Complex.
Fern Bay Reserve Playground (Fern Bay) – FENCED
If you're looking for a small, fenced and shaded park to take your toddler, try this park opposite the public school at Fern Bay. Little ones will love exploring around the natural timber elements such as the bridge, rope bridge, stepping logs and more. There's also a group swing, a baby swing, a toddler swing, a spinner and climbing structures. Bring the scooters and have a scoot around the half basketball court located next to the playground. Read more about Fern Bay Reserve Playground.
St John's Memorial Park (Tingira Heights)
Located adjacent to the Tingira Heights Fire Station, this new playground is small, but worth a visit. With a regular swing and baby swing plus a dual slide, seesaw, xylophone, lots to climb on and more. Your little one might even spot a firetruck or two entering or leaving the station. Read more about St John's Memorial Park.
Coldstream Crescent (Rankin Park) – PARTIALLY FENCED
Located in the Coldstream Crescent Reserve on McCaffrey Drive, this timber playground is fenced to the road and features heaps to keep toddlers and preschoolers busy. The climbing structure has a low rock-climbing wall, bridge, dual slide and more, plus there is a regular swing, baby swing and balancing logs. There's lots of surrounding green space to run around and an undercover picnic area. Read more about Coldstream Crescent Reserve.
Jesmond Park (Jesmond)
There's two playgrounds to choose from at Jesmond Park, but the park best suited to toddlers is the one at the back of the park. They will love the small train with tunnel to climb through and pretend play on. A great feature of this park is the circle of swings facing each other. Two of these swings are baby swings and littlies can swing in and out while facing their friends. There's also wobbly logs, lots to climb on and surfaces suitable for scootering. Toilets are located approximately 100m away near the front park. Read more about Jesmond Park.
Speers Point Park
Speers Point Park is a massive playground with lots of play equipment for kids of all ages. However, there are fun spots in the park for little ones to enjoy. As well as the water play area and sand area, there is the new play equipment which features ramps and slides. Please note, the playground can get really busy at peak times with lots of kids around so always supervise your kids. Read more about Speers Point Park.
Rose Point Park
It's a bit of a drive to Rose Point Park in Singleton but it's worth it. This regional park is big and has play equipment for all ages. Near the front entrance of the park, you'll find a colourful play complex with softfall flooring. With gentle ramps, climbing nets and small slides, it's great for little ones. There are lots of things to keep their interest including an X and O game, rockers and an-in ground carousel. Read more about Rose Point Park.
Find on map
Are there any other parks that you can can recommend that we should add to this list?
---
You might also like:
5 Play-Based Activities for Babies and Toddlers That You Can Do at Home
12 Toddler Activities You Can Do with Your Child in Newcastle
10 Top Books To Read To Toddlers
Started in late 2012 by a local mum, Newy with Kids has grown into a thriving go-to family guide for the Newcastle, Lake Macquarie & Hunter region. Parents visit the Newy with Kids website to find things to do with babies, kids and teens. Whether it's local attractions, upcoming events, kids eat free, school holiday activities or birthday party ideas, Newy with Kids is the best website for local parents to find local kid-friendly activities and information 24/7.