The Newcastle, Lake Macquarie & Hunter region is full of some of the most beautiful and fun bike paths to suit any cyclists – from little ones just beginning on their biking adventures to those kids who want some challenge and fitness.
Depending on the fitness and age of your children, you can either cycle to the start of each path (which may be a trip on its own) or drive to the start. Here is a list of some of our favourite paved paths and mountain bike trails.
Newcastle Beach to Nobbys Beach Bike Path
The distance between beaches isn't a long one so it makes for a flat easy bike ride with kids. Start from Newcastle SLSC, follow the lower path and head around to the Canoe Pool and Newcastle Ocean Baths. (If you want more of a challenge, walk on the higher path by the road as it has more of a hill). You can stop for a quick splash in the Canoe Pool or continue around the bend towards Nobbys Beach. You'll pass Soldiers Baths, one of the first ocean baths built in Newcastle as well as the red sculpture Grounded commemorating the Pasha Bulka's grounding in June 2007.
Distance: 1km
Suitability: Flat
Nobbys Breakwall Bike Ride
Head out to Nobbys Breakwall on a bike ride. It's a flat paved path from the Nobbys SLSC to the end of the breakwall. Along the way, you'll see views of Newcastle Harbour, Stockton sand dunes and out to the ocean. Keep an eye out for seals as you'll sometimes spot them on the rocks.
Distance: 1.5km one way
Type: Flat. Avoid area in big seas as waves crash over the break wall.
Newcastle Harbour Foreshore Bike Path
This harbour bike ride really captures the essence of Newcastle with views of the harbour, beach and coal ships. You can start your bike ride at Nobbys Beach (parking available here) and head towards Honeysuckle or vice-versa. It's a flat, easy bike ride with plenty of ferries, tug boats and coal ships to watch. If you want to time your walk with the entrance or exit of a ship in Newcastle Harbour, you can consult the Port of Newcastle Schedule. The shared path does get busy though so watch out for pedestrians and other cyclists.
Distance: 2.2 kilometres one-way
Type: Flat
Bar Beach to Merewether Bike Ride
Bike along Bathers Way, a beautiful coastal route. It starts at Bar Beach where there's plenty of parking. It's a flat easy walk until the path heads up the hill to Dixon Park where it becomes flat again towards Merewether. You might have to help kids get up the hill and steady them on the hill down to Merewether. If your kids want a break , there's playground equipment at Empire Park in Bar Beach and also Dixon Park.
Distance: 1.95km one-way
Suitability: Flat path until the hill at Dixon Park. Better for older kids or kids with stamina.
Throsby Creek Loop
Go for a bike ride around Throsby Creek through the suburbs of Carrington and Maryville. What was once treated as a stormwater drain, Throsby Creek is now a thriving place filled with natural wildlife and people. Start your bike ride at Carrington foreshore and head west along Throsby Creek. If you want a longer bike ride, you can take a detour and head towards Islington Park.
Distance: 2.5 kilometres from Carrington to Cowper Street Bridge, Maryville
Type: Flat path. The path changes from concrete to gravel and then back to concrete.
For more information, read our guide to the Throsby Creek Loop Through Carrington & Maryville
Stockton Shipwreck Walk
To see reminders of Newcastle's maritime history, take your kids for a bike ride along the Shipwreck Walk along the northern breakwater in Stockton. During the 19th and early 20th centuries, many ships were shipwrecked as they tried to navigate entry in Newcastle Harbour. Today, it's a fun family trek which combines history with scenic views. Although the remains of timber ships didn't remain, the wrecks and hulls of steel and iron ships remained and were used in the construction of the breakwater. You can see the rusted hulk of the Adolphe, a French vessel that was shipwrecked in 1904.
Distance: 2km
Type: Flat wide path
For more information, read our guide to the Stockton Shipwreck Walk
Stockton Foreshore Walk
If you want a longer bike ride in Stockton, follow the Stockton Foreshore Walk. North of the harbour, the Stockton shared path stretches from Stockton Bridge all the way around the peninsula to the Stockton pool and the start of the breakwall. At approximately 7km, mostly flat and lightly used, it is a fantastic path to bike with kids. There are fantastic views of Stockton Bridge, the harbour, Nobbys Headland plus three playgrounds to visit along the way.
Distance: 7km one way from Stockton Bridge to Stockton Breakwall.
Type: Flat shared path
For more information, read our guide to Stockton Foreshore Shared Path
Warners Bay to Speers Point
Enjoy Lake Macquarie views and a variety of art sculptures on a lakeside bike ride. Part of a larger shared pathway around the lake, the bike track from Warners Bay to Speers Point is a fun one to do with kids. This flat path follows the shore of the beautiful Lake Macquarie and is a fully paved shared path. It ends up at Speers Point Park, perfect for a play at the massive Lake Macquarie Variety Park.
Distance: 3.6km from Warners Bay to Speers Point
Type: Flat
For more information, read our guide to the Warners Bay Sculpture Walk.
Eleebana to Warners Bay Foreshore
Start at Lions Park in Eleebana for a short flat bike ride to Warners Bay Foreshore. Along the way, you'll bike across water on the Red Bluff Shared Pathway. You can combine this with the Warners Bay to Speers Point bike ride or stop for a drink or snack at Warners Bay.
Distance: 2.1km from Eleebana Lions Park to Warners Bay
Type: Flat

Fernleigh Track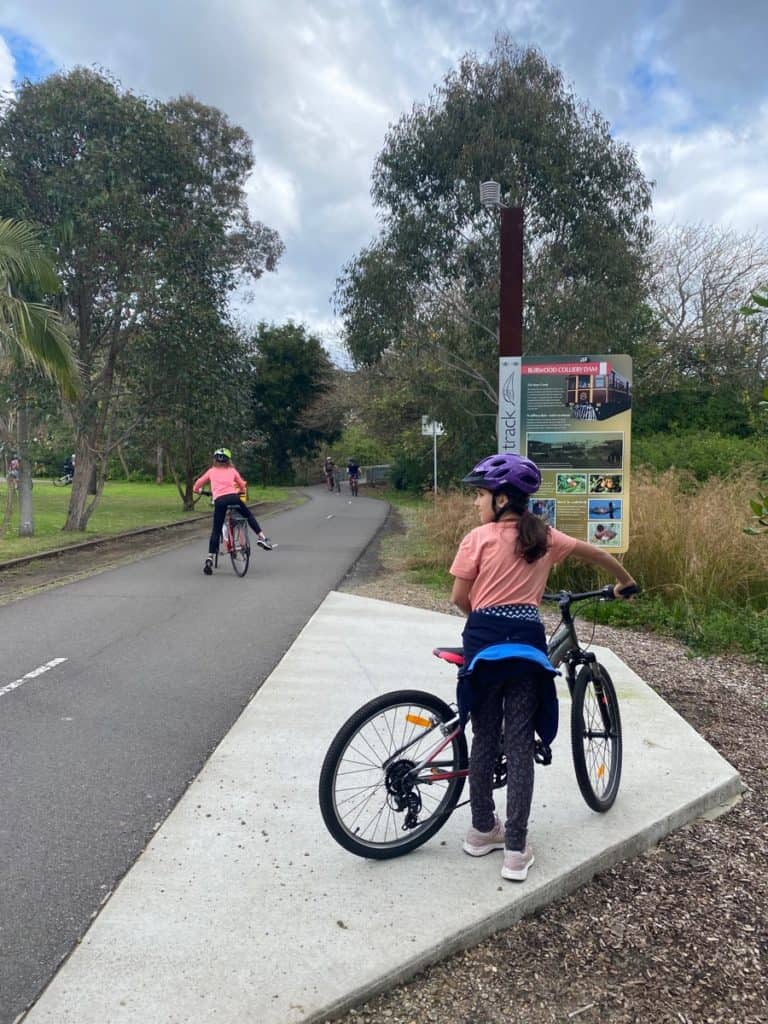 A former rail line with a tunnel, the 15 kilometre Fernleigh Track is a popular cycling path connecting Lake Macquarie & Newcastle. It has multiple entry and exit points, which means you can tackle as little or as much as you like – from a quick bike ride to a half-day adventure. The track is well maintained, with gentle slopes and wide pathways, so it's ideal for all fitness levels. The trail is dotted with points of interest including natural and historical information and shady benches. To abide by current COVID-19 regulations, turn back at Newcastle City Council border after Kahibah.
Distance: 15km one way
Type: Flat to moderate.
For more information, read our guide to the Fernleigh Track.
Green Point Reserve
The Green Point Foreshore Reserve area connecting Belmont and Valentine is a great spot for a bike ride. There is plenty of space to enjoy lake views, scenic lookouts and picnic and barbecue areas too. Formerly a coal mine from 1863 to 1982, the area is now a beautiful lakefront reserve. It's a stunning spot and one that is easy to explore with kids on bikes. You can bike on the shared concrete pathway on the Black Jack Pathway from the Shores Way park entrance all the way to Green Point Drive.
Distance: 3.4km
Type: Mostly flat until the path inclines before Sea Eagle Park. The path then climbs a bit before levelling out.
For more information, read our guide to the Green Point Walk
Glenrock Lagoon
Probably the most famous mountain biking track in the Newcastle region, Glenrock has trails for all levels of bike riders. With beautiful bush trails that have glimpses of the ocean, there are over 40km of tracks but for kids, look out for the green level circle. These are signposted and are a great introduction to the lush woodlands, waterfalls and open forests of the Glenrock area, which is a stone's throw from Newcastle's city centre. It can get busy here so pick times that are off-peak if you're trying mountain bike riding out for the first time.
Distance: Various lengths
For a detailed description of the tracks, read Tracks Less Travelled's blog about Glenrock MTB Park.
Glendale to Wallsend Tramway Track
A former steam tram route, the Tramway Track is a 3.9km off-road walk and cycleway connecting Glendale in Lake Macquarie to Wallsend in Newcastle. If you've driven along Lake Road from Wallsend to Glendale, you'll know how the road climbs up to the high point before descending down to Glendale. However, this track located down in the gully is a much easier way to get from Wallsend to Glendale as it has a steady shallow 3% gradient which was necessary for steam trams. It's still a bit hilly though so it's best for kids with some endurance. To abide by current COVID-19 regulations, turn back at Newcastle City Council border at Elermore Vale.
Distance: 3.9km one way
Type: Hilly in spots
For more information, read our guide to the Wallsend Glendale Tramway Track
Scotts Point Way Walk at Kooragang Wetlands in Hunter Wetlands National Park
If you feel like a bike along the Hunter River, there is a 1.4 kilometre one-way trail which is especially scenic. You don't need to cycle the entire track but head as far as Scott's Point. Here you'll find a rest stop to relax as well as information panels. There is a lovely little beach you can explore as well as seeing the mangroves up close.
Distance: 1.4km one-way
Suitability: Flat dirt / gravel path
For more information, read our guide to Hunter Wetlands National Park
Maitland Riverside Track
Here is another bike ride along the Hunter River, this time in the Maitland CBD. With wide paths and views of the Hunter River and far off hills, it's a scenic walk to cycle. The Riverside Shared Path stretches from Hunter Street in Horseshoe Bend to Riverside Car Park but you can cycle further to Telarah.
Distance: 1km one-way
Suitability: Flat paved path
---
You might also like:
Started in late 2012 by a local mum, Newy with Kids has grown into a thriving go-to family guide for the Newcastle, Lake Macquarie & Hunter region. Parents visit the Newy with Kids website to find things to do with babies, kids and teens. Whether it's local attractions, upcoming events, kids eat free, school holiday activities or birthday party ideas, Newy with Kids is the best website for local parents to find local kid-friendly activities and information 24/7.