There is no shortage of school holiday activities in April. In fact, it's been a while since we've seen so many activities and events so there's no excuses for boredom during these Easter school holidays. Whether your kids are interested in art, books, science, movies, or the great outdoors, there's something for everyone. And it's not just for school-aged kids, there are plenty of holiday activities planned for under 5s.
Please note: All information is correct at the time of publication.
City of Newcastle
NEWCASTLE LIBRARIES
Celebrate food, glorious food at Newcastle Libraries these Autumn School Holidays with a great range of events for all ages. Tickets to all events are free for library members. Spaces are limited so please cancel if you can no longer attend.
Mila and Ivy Book Launch: Meet the author Katrina McKelvey – Celebrate the launch of Katrina McKelvey's latest picture book Mila and Ivy. Come along for a special reading by the author then channel your inner cardboard design engineer and see what fantastic things you can create with our supply of boxes. Suitable for 3 – 8.
The Biscuit Maker: Read it, Eat it! – Listen to the story 'The Biscuit Maker' by Sue Lawson and Liz Anelli, then grab your individual pack of ingredients and decorate your own biscuits! Suitable for 6+.
Story Stomp: Leftovers! – What can we do with all the food leftover from dinner? Let's read some stories, sing some songs and dance around til we work it out! Suitable for 3- 7.
The LEGO® Challenge: Hungry, Hungry, LEGO® – The LEGO® Challenge is on again! Are you feeling hungry? Use LEGO® and your imagination to create food, glorious food and everything related. The Library will supply the LEGO® tub but the rest is up to you, under the pressure of the LEGO® timer. Suitable for 5+.
Hama Beads – Hama beads, banana beads, Mexicana beads! Make all your favourite foods and more with our collection of these colourful beads. Suitable for 8+.
STEAM Fun: Makey Makey Food Circuits – Create circuits using Makey Makeys, library laptops and lots of different food! We will learn which foods conduct electricity best, making the most effective circuits. Suitable for 9+.
STEAM Fun: Robot Candy Dispenser Challenge – Are you the inventive type who likes a challenge? Bring along your creativity and coding skills and your love for candy to Newcastle's Digital library and see if you can code the Edison Bot to be a Candy Dispenser. Suitable for 8 – 12.
Story Stomp: Eat the Rainbow – Red and yellow and pink and green, purple and orange and blue…I can EAT a rainbow, can you? Come along for stories and songs about all the delicious rainbow foods we like to eat. Suitable for 3- 7
Collage Time: Welcome to the Pizzeria and Ice Creamery – Order Up! You need to come up with some great Pizza recipes to add to our Newcastle Libraries Pizzeria menu, then don't forget dessert! Have a look at how other illustrators have used collage to create beautiful images, then get crafty and create the perfect paper pizzas, ice-creams and popsicles. Suitable for 6+.
STEAM Fun: May I clear the table? Bots in the Restaurant – Program Edison Bots to clear up a customer's table in a restaurant. You will set up the space, create some dishes using LEGO® bricks then program your robot to collect or push the dishes off the table. Suitable for 8+.
Collage Time: Food Collage Jeannie Baker Style – If you love the idea of a collage smelling good, then this art activity is for you! Using canvas boards, create a stunning collage using herbs, spices, seeds and beans. We'll take inspiration from the artwork of Jeanie Baker. Suitable for 8 – 12.
Movie Mayhem! Willy Wonka and the Chocolate Factory – Kids, do you love chocolate? Do you love a good movie? Come to Wallsend for the best of both worlds with our screening of the 1970s classic, Willy Wonka and the Chocolate Factory. Suitable for all ages.
Bookings are required for all workshops and costs vary. See more on the Newcastle What's On website.
NEWCASTLE MUSEUM
There will be plenty of entertainment for curious kids at Newcastle Museum these school holidays.
Enjoy Maths Magic on in Museum Park at 11:15am, 12:15pm and 1:15pm from April 11 – 14. This is not the subject you know from school!  Cath will be talking about how to improve your chances on game shows, what's bigger than infinity, how long a jiffy actually takes, why your favourite number is not random and why some numbers are considered unlucky. There will be experiments to try and fractions of cake to eat!  Bring a picnic blanket or chairs.  If the weather is bad, the event will relocate to the Theatrette in the Museum. This session is for all ages and bookings are not required.
You can also check out the new exhibition A Portrait of Australia: Stories Through the lens of Australian Geographic. It's a stunning display of large format photographic prints
Make your day out at Newcastle Museum even more fun by downloading the Newy with Kids Newcastle Museum scavenger hunt printable before you go. It takes you through different permanent exhibitions and is super fun for kids of all ages. There's even an outdoor scavenger hunt printable for Museum Park thanks to the support of Hunter and Central Coast Development Corporation. Newcastle Museum is open every day during the NSW school holidays.
BLACKBUTT RESERVE
Playgrounds, walking trails, open spaces, shelters and barbecues at Blackbutt Reserve are open. Visit Blackbutt and see family favourites like koalas, wallabies and wombats. You can also see emus, wallabies and kangaroos in a separate paddock behind the playground. The kiosk has reopened for snacks, coffee and animal food. Purchase a feeding cone from the kiosk and feed the emus and enjoy a reptile show at 11am on Saturdays in the Wildlife Arena,
Make your day out at Blackbutt Reserve even more fun by downloading the Newy with Kids Blackbutt Reserve scavenger hunt printable before you go. It's for the Carnley Avenue side of Blackbutt and is super fun for kids of all ages.
There's also 10km of walking trails and plentiful picnic and playground facilities to enjoy. Drop into Richley Reserve and experience the adventure playground with rope courses, bridges, swings and slides, and an adventure tower, or swing by the playground at the Carnley Avenue entrance ideal for children aged 6-10 years with interactive musical instruments and activities.
Blackbutt Reserve is open every day during the school holidays. Wildlife exhibits are open 10am – 5pm, picnic facilities 7am – 7pm and the kiosk 10am – 3pm. Visit the Blackbutt Reserve website to find out more.
FORT SCRATCHLEY
Boasting one of the best panoramic views of Newcastle and with space for the kids to run wild and free, this historic landmark is a must do for all school holiday itineraries. Pack a picnic and enjoy the rolling grass hills overlooking the ocean, or book in for a tunnel tour where you will learn about this history of this amazing site. Stick around for the daily gun firing at 1pm (weather permitting)! For more details visit the Fort Scratchley website.
Fort Scratchley is open from 10am – 4pm six days a week. The Fort is closed on Tuesdays.
POOLS & BEACHES
If it warm during the holidays, head to your local pool or beaches. Local swimming centres are open and our beaches are patrolled by Lifeguards seven days a week. Lambton Pool is open from 5.30am – 6pm while Beresfield, Mayfield, Stockton and Wallsend are open 6am – 6pm seven days a week.
Take a last slide down iconic Lambton Pool waterslide before it's replaced! The 120m-long twisting waterslide will operate until the end of the April school holidays, before work starts on replacing it with another waterslide.
Prefer the beach? Head to one of the beaches or ocean baths in Newcastle. All beaches are patrolled during the summer surfing season from 18 September 2021 until 25 April 2022. Nobbys, Bar and Merewether Beach are patrolled all year round. Newcastle Ocean Baths is now closed for renovation.
---
Lake Macquarie City Council
LAKE MACQUARIE CITY LIBRARY
Lake Macquarie City Library has organised loads of fun school holiday activities in their libraries and event spaces.
Storytime with the author: Mila and Ivy by Katrina McKelvey. Come along for a morning of fun, with a story and hands on activities. Join author Katrina McKelvey as she shares her new book Mila & Ivy. Then join in the fun with the cardboard challenge, where you get to design your own invention, and make it in cardboard to take home.
Book Launch – Join author Andrew Dittmer, and illustrator Jenni Goodman for the launch of their new picture book Snuffy. Come along for a fun filled morning of stories and activities.
Make a Dreamcatcher workshop – Create your own unique dreamcatcher to take home. Join artist Dianna Kellerman and create your own unique dreamcatcher from mixed materials to take home. Ages 7+.
Easter Storytime – Listen to stories, sing songs and create some Easter craft with your pre-schooler. Hop in and join the fun at a special Easter Storytime. Suitable for ages 3-5 years.
Tech Play: Merge Cube – Learn through virtual reality! With the Merge Cube you can hold virtual objects in your hand. Discover dinosaurs and fossils, the solar system, ancient artifacts plus much more in 3D. Suitable for ages 6+.
9 Squadron: Planes & catapults – Enjoy a tour, and hand-on activities at our latest exhibition at Rathmines Heritage Centre. Join our exhibition curator for a tour of the exhibition 9 Squadron and discover the unique way planes of 9 Squadron were launched using catapults. Suitable for ages 6-12 years.
Bored Games – Bring your friends and come along to play different board games. No need to book, just drop in. Suitable for ages 7+.
Sound Studio Tutorial – Join music industry professional Luke Wheeldon for an interactive sound studio tutorial at Warners Bay Theatre, baramayiba. Suitable for ages 15+.
MAP mima Immersive Disco – Join the fun at our immersive disco featuring music and video and family friendly activities. The immersive disco features music and video compiled by musician and artist Wanjum Carpenter. Families will also enjoy family friendly activities in the grounds of MAP mima. Two age sessions will be held, one session for ages 5-10 years (children must be accompanied by an adult) and one session for ages 11-16 years.
Storyboard Illustration For Teens with Graham Davidson – In this three hour workshop Graham Davidson will explain the fundamentals of how to create a "thumbnail" storyboard and help participants develop the necessary drawing skills and work through the various aspects of composition and staging that help to draw the eye in and ensure fluid story telling. Best suited for people aged 10 – 18.
For more information and to book holiday sessions, visit Lake Macquarie City Council website.
MAC (MUSEUM OF ART AND CULTURE)
Visit the gallery for in-person workshops. Hands-on art-making returns to MAC these school holidays with small group classes. Kids aged 7+ can create their own largescale art work inspired by the First Class 21 artworks on display in the Art Museum.
There is also a skateboard artwork session. Kids aged 12+ can be inspired to create their own skateboard artwork. Kids will enjoy the amazing artworks in the First Class 21 exhibition and then create their own timber skate deck artwork.
For more information and to book holiday sessions, visit the MAC website.
LAKE MAC SWIM CENTRES
In Lake Macquarie, pools are open in Charlestown, Speers Point, Swansea and Toronto. If it's warm outside, visit one of the many beaches around the area and cool off.
---
Maitland City Council
MAITLAND CITY LIBRARY
TO BE ANNOUNCED
For more information, visit Maitland City Library website.
MAITLAND EVENTS
These April school holidays, get the kids out for some fresh air and get creative with Free Art by The River. Join their friendly art tutors who will guide you through a fun and easy activity producing an artwork you can take home. Weekdays from Monday 11 April until Friday 22 April 10am to 1pm* at the Bourke Street Link, The Levee Central Maitland. *Excludes Public Holidays
MAITLAND GAOL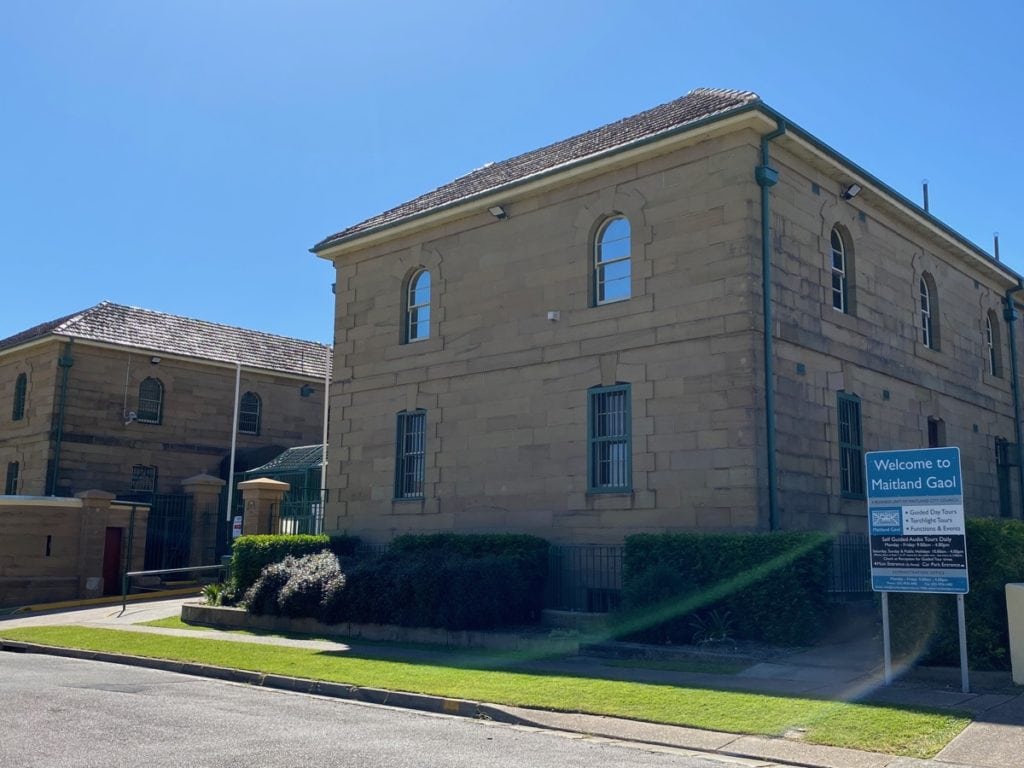 For an experience your family won't forget, take your kids on a tour of Maitland Gaol. It's not for the faint-hearted but it's an opportunity to immerse yourself in local history and learn more about Maitland Gaol. Opened in 1848, Maitland Gaol operated for 150 years. The heritage-listed site is preserved as exactly as it was when the facility shut in January 1998. It's open for guided tours and self guided audio tours on your own device.
Delve into the historic past of Maitland Gaol with these activities aimed at young people. Detainee Drill – After checking out prisoners accommodation for an hour, children have the opportunity to learn and perform the exercise routine undertaken by prisoners to keep fit in the early 1990s. Suitable for ages 5 – 12. All children must be accompanied by an adult. Child and adult packages start from $15.
Deputy Decipher: How did you get a message to Maitland Gaol prior to telephones? Morse code played an integral part, learn more these school holidays. Suitable for ages 8 – 15. All children must be accompanied by an adult. Child and adult packages start from $15.
You can also learn about Maitland Gaol from home with Snitch's Spot. While the historic site was closed, Maitland Gaol created some fun online resources guided by the ghostly character 'Snitch the Rat' to entertain kids at home these school holidays. For those familiar with the Gaol site, Snitch the Rat is the voice of the children's self-guided audio tours, and he comes to life in the newly launched 'Snitch's Spot' on the Maitland Gaol website, where his picture can be seen for the first time. There are also activities for kids to try including making their own butter and liquid soap.
---
Cessnock City Council
CESSNOCK CITY LIBRARY
The holidays are here and Cessnock City Libraries have a great range of fun events on offer, with something for kids of all ages and abilities. Throughout December and January, kids will have the opportunity to go to the circus, create upcycled treasures, play giant games, learn all about crystals, and test their Hogwarts knowledge with Harry Potter Trivial Pursuit.
Upcycled T-Shirt Fun – Make bags, dog tug toys and friendship bands, all from old t-shirts! No sewing required – all materials and equipment provided. Ages 6+.
Milk Bottle Crazy Creatures – Bring your own 2 or 3 litre milk bottle to create crazy faces, ears, eyes, noses and more! 8+.
Easter Craft – Join in for some eggsellent Easter craft! Warning – wear old clothes, as we'll be painting, and dyeing Easter Eggs!
A Present for Mum – Get ready for Mother's Day – make Mum a special handmade gift and card. Ages 5+.
Superhero Experience – Learn to land like a superhero, roll like a ninja, and work in a Superhero team with our super awesome Superhero Trainers! Ages 5+.
They are also excited to be offering sensory storytime. Designed for children with disability and kids who feel overwhelmed by noises and crowds, these sessions combine storytelling with sensory aids to help kids feel calm and comfortable. For more information, visit Cessnock City Library website.
---
FEATURED SCHOOL HOLIDAY ACTIVITIES
Wallsend Village
Join Wallsend Village at their free Wizarding World Workshops where witches and wizards can concoct a Dragon Breath potion, make their own magical wand or create a tree dwelling magical beast, The Bowtruckle. For more information, visit the Wallsend Village website.
Jesmond Central
There's heaps of school holiday fun at Jesmond Central. Test your rugby passing skills with the Newcastle Griffins on Tuesday 19 April from 10am to 1pm. These school holidays, show The Newcastle Griffins what you've got! There'll be small prizes up for grabs. Plus, find out how to register to be part of The Newcastle Griffins' Junior teams! For safety reasons, passes are to be low, short and soft only.
Take the Sweet Mountain Challenge at the Sonic Colours: Ultimate™ Video Game Zone at Jesmond Central these school holidays on Wednesday 20 to Saturday 23 April from 10am – 1pm. Plus, decorate your own Sweet Mountain Pancake from Moe's Pancake Cafe. You can also meet Sonic the Hedgehog on Wednesday 20 April. Appearance times are 10:30am – 11am, 11:30am – 12pm and 12:30pm – 1pm. Sonic Colours Ultimate™ is available for purchase as EB Games, located near Priceline Pharmacy at Jesmond Central. For more information, visit the Jesmond Central website.
Mitch Revs
Mitch Revs' Decked Out Creative Workshops are a place where kids get to be creative and take inspiration from the things that they love and design and paint a skate deck with Posca pens. They have professional artist teachers (with their Working With Children checks) helping the kids to execute their designs and teach the kids about basic design concepts over the 2 hours. They are also a NSW government approved Creative Kids Voucher provider, meaning that kids can attend their workshops for free. For more information and bookings, visit the Mitch Revs website.
The Forum University
The Sports Holiday Program will be held at The Forum University during the April School Holidays. The program is delivered by qualified and licensed coaches. The Sports Holiday Program is for kids aged 6 to 12 years and is the perfect solution to keep your kids happy and active during the school holidays. Each full-day session for kids includes a ball sport in the morning, followed by Splash Zone activities during the afternoon. Your kids will thank you for this opportunity and they provide these full-day sessions to cater for busy, working families in a safe indoor environment. For more information and bookings, visit The Forum website.
SCA Under Armour Mountain Bike Camps
There is nothing better than the Australian outdoors…. Except when you're on a Mountain Bike.Be challenged, fast track your skills and have fun doing it! This 2-Day camp in Glenrock, for 8-15 year olds is a holiday camp guaranteed to be high energy and full of fun! Limited spaces are available so book a place now. For more information and bookings, visit the Sports Camp Australia website.
Bricks 4 Kidz
April Holidays are nearly here and so are BRICKS 4 KIDZ® exciting LEGO® workshops at Newcastle and the Central Coast! 1 and 2-day activities are set for 11 April 2022 to 25 April 2022. With the holidays nearly here, it's time to start planning the holiday activities! Children 5 – 12 years can spend their holiday time learning about STEAM – Science, Technology, Engineering, Art, Math – through hands-on creative building fun! Screened experts share skills and parents get to take a load off too knowing the kids are being well taken care of. Everyone needs a great holiday… a time to relax and have fun! For more information or to book, visit the Brick 4 Kidz website.
Surfest Surf School
Learn to surf during the school holidays with Newcastle Surfest Surf School. Their Easter holiday program is designed for beginners and runs over either 2 days or 3 days. The program is for kids aged 5 – 12 years old and runs from 9am – 11am each day. Kids learn all about ocean safety and awareness and also the basics of learning to surf! Lessons are run out of Nobbys Beach, Newcastle and they provide everything. A Ripcurl hooded towel is provided to each new SurfGroms participant of the season valued at $69.99!
For bookings you can head to Surfest Surf School website or phone 0410 840 155 for more information.
Newcastle Jets Holiday Clinics
Looking for something fun and active for the kids these school holidays? Sign them up for a Newcastle Jets Holiday Clinic and get them outdoors. Football clinics run from 9am to 3pm and are only $100 per child.Skills sessions, games, lunch and a whole lot of fun provided! There are 5 great locations to choose from so there is sure to be one near you: Speers Point, Hamilton, East Maitland, Stockton and Belmont. Sign them up today! For more information and bookings, visit the Newcastle Jets website.
University of Newcastle SMART
Science Maths and Real Technology (SMART) at the University of Newcastle are hosting four STEM-based workshops for primary school students (ages 8-12) in the April school holiday break! These include Coding + Robotics (beginners), Science + Engineering (Earth + Moon), Coding + Robotics (extension), and Science + Engineering (Light + Shadow). Workshops are designed for students aged 8-12 and delivered at Callaghan Campus, from 9am – 2.30pm and facilitated and supervised by four SMART staff members. For more information and bookings, visit the University of Newcastle SMART website.
---
EVENTS
There are tons of family events to enjoy during the school holidays. Refer to our April event guide for all the details as well as our guide specifically for Easter events.
---
OUTDOOR FAMILY FUN
HUNTER WETLANDS CENTRE
Spend a day at Hunter Wetlands Centre in Shortland. There is pond bird feeding every day at 10.30am – how many bird species can you see? Or pick up a net and go dipnetting. With lots of water in BHP Pond, there will be plenty of waterbugs in the pond for you to catch and identify. Become a Wetland Explorer – collect your map and question sheet at reception and learn more about the wonderful wetlands as you explore. Other attractions include seeing the reptiles on display, exploring the Discovery playground, egret tower, walking and cycling tracks. Cafe open from 10am to 2pm. Entry Fees: Children (4 to 15 years) $5 (under 4 free), adults (16years+) $7.50.
FAMILY WALKS & HIKES
Go for a hike during the school holidays. Hike the Hickson Street Track down to Burwood Beach or the Yuerlarbah Walk at Glenrock Lagoon. Do the Awabakal walk from Dudley to Redhead Walk and enjoy panoramic views of the coast. Enjoy the Redhead Coast on the Ken and Audrey Owens Walk. Explore Shipwreck Walk, a walk along the Stockton Breakwater which incorporates the wrecks and hulks of several iron and steel ships within the structure. Or go a bit further and explore Gap Creek Falls in the Watagans. For more walks, check out our roundup of local family walks.
FAMILY BIKE RIDES
The Newcastle & Hunter region is full of some of the most beautiful and fun bike paths to suit any cyclists – from little ones just beginning on their biking adventures to those kids who want some challenge and fitness. Here is a list of some of our favourite paved paths and mountain bike trails. We've put together a collection of our favourite family bike rides in Newcastle and family bike rides in Lake Macquarie.
FRISBEE GOLF
Take some frisbees and play frisbee golf at Jesmond Park or at Styles Point Reserve in Rathmines. For those unfamiliar with disc golf, it's similar to traditional golf but instead of using golf clubs and a ball, you use a frisbee. The aim is to complete each hole with the fewest number of throws.
HAVE A PICNIC
Get outside during autumn and enjoy a picnic or barbecue with your kids. We've put together a collection of our favourite family picnic spots in Newcastle LGA and family picnic spots in Lake Macquarie LGA. We've chosen picnic spots with barbecues, playgrounds and amenities to enjoy a great day out.
DO A SCAVENGER HUNT
Get out and explore Newcastle! Newy with Kids has developed family scavenger hunts printables covering Newcastle LGA to download for free. Download the self-directed scavenger hunt and then visit the location. You and your family will need to find various points of interest and answer the questions listed on the map to solve the mystery phrase. It's an opportunity to notice landmarks and interesting things you might not necessarily notice. There are now 10 locations to choose from: Blackbutt Reserve, Civic Park & Honeysuckle, Foreshore Park, Stockton, Wallsend Brickworks Park, Newcastle Museum and two new scavenger hunts Lambton Park and Throsby Creek. We've also completed scavenger hunts for The Station and Museum Park.
---
NEW RELEASE FAMILY MOVIES
Want to take the kids to the movies during the holidays? Use your Discover voucher or Parents NSW voucher. As usual, there are a few new-release family-friendly movies to choose from.
Monster Family 2
Rating: PG
Release Date: March 3, 2022
Duration: 103 minutes
Description: To free Baba Yaga and Renfield from the clutches of Monster Hunter Mila Starr, the Wishbone Family once more transforms into a Vampire, Frankenstein's Monster, a Mummy and a Werewolf. Aided and abetted by their three pet bats, our Monster Family zooms around the world again to save their friends, make new monstrous acquaintances and finally come to the realization that 'Nobody's Perfect' – even those with flaws can find happiness.
Trailer: Click here to watch the trailer
Sonic the Hedgehog 2
Rating: CTC
Release Date: March 31, 2022
Duration: TBA
Description: The world's favorite blue hedgehog is back for a next-level adventure. After settling in Green Hills, Sonic is eager to prove he has what it takes to be a true hero. His test comes when Dr. Robotnik returns, this time with a new partner, Knuckles, in search for an emerald that has the power to destroy civilizations. Sonic teams up with his own sidekick, Tails, and together they embark on a globe-trotting journey to find the emerald before it falls into the wrong hands.
Trailer: Click here to watch the trailer
The Bad Guys
Rating: PG
Release Date: March 31, 2022
Duration: 100 minutes
Description: After a lifetime of pulling legendary heists, five notorious bad guys—Mr. Wolf, Mr Snake, Mr Piranha, Mr Shark and Ms Tarantula—attempt their most challenging job yet…going good. Nobody has ever failed so hard at trying to be good as 'The Bad Guys', an all-new animated feature film from DreamWorks Animation.
Trailer: Click here to watch the trailer
Rabbit Academy
Rating: PG
Release Date: April 7, 2022
Duration: 76 minutes
Description: Max has reached his goal: He is the first city rabbit ever to be chosen in the master class for easter rabbits. Now he and his friends have to find their very own super power in order to protect Easter. But then the unthinkable happens: The easter rabbits' most powerful magical possession, the "golden egg", turns black – meaning Easter is in great danger! Indeed, Leo, the leader of a gang of city rabbits, wants to abolish Easter and tricks a family of foxes into stealing all Easter eggs. Max' only chance to save Easter lies in teaming up with the fox boy Ferdinand who offers his help. But can a rabbit really trust a fox?
Trailer: Click here to watch the trailer
Fantastic Beasts: The Secrets of Dumbledore
Rating: CTC
Release Date: April 7, 2022
Duration: TBC
Description: In an effort to thwart Grindelwald's plans of raising pure-blood wizards to rule over all non-magical beings, Albus Dumbledore enlists his former student Newt Scamander, who agrees to help, though he's unaware of the dangers that lie ahead. Lines are drawn as love and loyalty are tested, even among the truest friends and family, in an increasingly divided wizarding world.
Trailer: Click here to watch the trailer
INDOOR FAMILY FUN
Virtual Tours
Visit Australian landmarks, zoos, aquariums, galleries, museums & world heritage sites from your home. Travel plans might be on hold at the moment due to COVID-19 but you can still explore Australia without leaving your home. Here are more than 30 virtual online tours you can do across Australia. Some involve Google Steet View tours while others let you view online exhibits.
Kids Movies
Going to see a new release movie is a school holiday favourite. However, if you don't feel like going out, watch one of the many kids movies at home. The Newy with Kids team has come up with an extensive list of family movies that you can watch with your crew while in lockdown. We've got something for everyone: classics, animals, sports, sci-fi, fantasy and comedies, even some cringeworthy gems from the 80s and 90s. We've chosen a selection from around the world including some great kids films produced here in Australia. So choose a movie, pop the popcorn, settle in and get ready for some family viewing.
Kids TV Shows
If you feel like you've watched tons of family movies and you feel like something different, how about watching a TV show with your kids? We've put together a big list of kids shows that you can watch together as a family including some Australian shows. The list includes TV shows for a range of ages from preschoolers to teens on ABC iView, Netflix, SBS on Demand, Disney+ and Apple TV+.
Podcasts
Want to keep little minds interested? Get them listening to podcasts especially during school holidays at home. We love podcasts as kids can listen to the subject matter while relaxing, drawing or just playing with LEGO. And there are so many topics to choose from. No matter what your child is interested in, there's a podcast for them. Choose from science, ethics, mysteries and music and more. Here are our picks for the best podcasts for kids. We've chosen a selection from around the world including some great podcasts created here in Australia that parents will love too! Either listen to the podcasts together or give kids some headphones.
Board Games
Unplug from your devices and spend some family time together playing board games during school holidays. Here's a list of board games that you and kids might like. If your kids are preschoolers or in their teens, there's a game to suit. The list includes some retro classics as well as some of the hottest games. Bonus: Some of these fun board games even have educational benefits. Just don't tell your kids that. Just tell them it's unplugged play, family style.
---
You might also like:
150+ Ideas For Family Fun At Home
Celebrating Easter 2022 in Newcastle, Lake Macquarie & Hunter
Started in late 2012 by a local mum, Newy with Kids has grown into a thriving go-to family guide for the Newcastle, Lake Macquarie & Hunter region. Parents visit the Newy with Kids website to find things to do with babies, kids and teens. Whether it's local attractions, upcoming events, kids eat free, school holiday activities or birthday party ideas, Newy with Kids is the best website for local parents to find local kid-friendly activities and information 24/7.