There's no reason to hear an "I'm bored" complaint from your kids with a range of offerings this autumn. Whether your kids are interested in art, books, science, movies, or the great outdoors, there's something for everyone. And it's not just for school-aged kids, there's plenty of holiday activities planned for under 5s.
City of Newcastle
NEWCASTLE LIBRARIES
There is a raft of workshop experiences to be had across the Library branches.
Paper  illustration  workshop – Join Mel O'Dell, artist extraordinaire, for a workshop that is fun for all ages. Here's a chance to experiment, have fun and be guided in new techniques.   Suitable for ages 7 – 13.
Stupendous shadow puppets  workshop – Create unique coloured shadow puppets, then bring them to life!  Presented by artists from Curious Legends.   Suitable for ages 6-12.
Cyanotype  printing  workshop – Led by local artist Clare Weeks, participants will use personal items, hands, feet, jewellery, ribbons or toys to create a photographic image utilising the process of Cyanotype (blue printing). See images created, learn about the process and participate in the creation of your own unique cyanotype photographs. suitable for ages 7-13.
Write yourself the adventure of a lifetime workshop – It's time to start a fabulous story! Be inspired, brainstorm ideas and refine your skills with Newcastle based storyteller Karen Eastwood.   Suitable for ages 8-12.
Transported to another world workshop – Dramatic and visual storytelling for those with huge and enthusiastic imaginations. Brought to you by the Scribble Sisters, Alex Wegner (Sketch it Live) and Karen Eastwood (Storyspot). Suitable for ages 5 – 10.
Enjoy fun and interactive storytimes at library branches and local parks across Newcastle, including "How to" Story Stomp and Pirate Story Stomp. Suitable for a range of ages.
Bookings are required for all workshops and all library workshops are free. See more on the Newcastle Libraries website.
Have you visited the Digital Library at 12 Stewart Avenue? Whether it's dancing with Pepper the Robot, watching 3D printing or exploring space on the HUGE interactive screen there is something for everyone. (It's also the best place to pick up new release books for both kids and adults!) 
There are workshops and demonstrations at the Digital Library including:
VR Demonstration
How to make a short film with a green screen  
Tour of the digital library followed by construction of a paper sandwich
BOOKINGS ESSENTIAL newcastle.nsw.gov.au/library/whats-on/events     
NEWCASTLE MUSEUM
There will be plenty of entertainment for curious kids at Newcastle Museum this autumn.
See the world in a new light through Colour – an exhibition developed by Questacon, the National Science and Technology Centre. See colour as you've never seen it before and engage with more than 20 scientific experiences, ranging from coloured bubbles to iridescent insects to colour illusions. Explore how light influences colour and compare your perception of colour with your family and friends. Suitable for ages 4+. Bookings essential. Colour runs until May 2, 2021.
There is also the 1×4 Exhibition, an innovative exhibition. Use your smartphone to fully experience Newcastle's Museum latest exhibition 1×4. 23 items are on display, each having four distinct stories.
While you're at the Museum don't miss Science Busking, live science shows for children. It features a whole new line-up of fascinating science demonstrations to see and conversations to have, plus the return of a few old favourites.  Come and have some fascinating science fun with Catherine and Emma on Tuesdays and Thursdays in the school holidays, no bookings required! 
The Beginners Poetry workshop is for those aged 16 and over, interested in an introduction to creating poetry.  Workshop attendees will use, but are not limited to, the museum's 1×4 exhibition as inspiration for writing.  The workshop will last 1 hour and 45 mins, and participants must supply their own writing materials/equipment.  This workshop is one of a series of free events celebrating poetry, hosted by Girls on Key and Newcastle Museum. They invite you to perform your work at the free Open Mic event to celebrate the locally published books 'Fossilised Lightning', 'Intermittent Angels' and 'Witted and Whispered' on Sunday 11 April at 6pm. 
Entry to the museum is via QR code registration upon arrival. See more on the Newcastle Museum website. Newcastle Museum is open every day during the NSW school holidays.
NEWCASTLE ART GALLERY
Budding artists will love what's on offer at Newcastle Art Gallery. Indulge your passion for art and food in the Illustrating Food Workshops, or get hands-on in local Aboriginal artist led bracelet weaving and dilly bag making workshops.  
Illustrating food workshop – Taking inspiration from Newcastle Food Month, budding artists can participate in an Illustrating Food workshop drawing bowls of fruit and food specimens. Learn tips and tricks to create your own work of art full of fruity wonder.   Suitable for ages 5-12 years.
Aboriginal weaving workshop – Learn traditional weaving techniques in an artist led workshop with Aboriginal artist Michelle Napanangka Earl. You will be guided through step-by-step instructions to create your own unique bracelet.  Suitable for ages 5-12 years.
Teen Masterclass – Make a Dilly Bag – Learn how to create your own string and weave a dilly bag with Aboriginal artist Michelle Napanangka Earl. Set within the exhibition VOID, you'll be guided through a combination of weaving techniques by Michelle Earl.  Suitable for ages 13-17 years.
Taste of the Bush – Coinciding with Newcastle Food Month and in celebration of the closing weekend of the exhibition VOID, Newcastle Art Gallery invites you to a Gallery wide, family-friendly, celebration of Aboriginal art, food and culture.  Experience the unique flavours of Australia with Oz Tukka, who will be offering free tastings of food flavoured with Australian native spices. Enjoy a special dance performance by Catapult Dance in response to the Aboriginal exhibition 'VOID'. Explore traditional and contemporary craft through artmaking activities and live demonstrations. 
Did you know Art Cart is also on every Saturday during the holidays? Art Cart engages children with the exhibitions on display through discussion and art making. Led by Gallery educators, every weekend we interact with a different work of art on display. Activities are suitable for children of all ages, with supervision required by a parent or carer. Limited spots available.
Bookings are required for all workshops and costs vary, see more on the Newcastle Art Gallery website. The gallery is open every day during the NSW school holidays
BLACKBUTT RESERVE
Playgrounds, walking trails, open spaces, shelters and barbecues at Blackbutt Reserve are open. Visit Blackbutt and see family favourites like koalas, wallabies and wombats. You can also see emus, wallabies and kangaroos in a separate paddock behind the playground. The kiosk has reopened for snacks, coffee and animal food. Purchase a feeding cone from the kiosk and feed the emus. However, public programs, including animal feedings and reptile show, remain suspended until further notice. But you can book a private reptile or critter encounter with the Blackbutt rangers.
There's also 10km of walking trails and plentiful picnic and playground facilities to enjoy. Drop into Richley Reserve and experience the adventure playground with rope courses, bridges, swings and slides, and an adventure tower, or swing by the playground at the Carnley Avenue entrance ideal for children aged 6-10 years with interactive musical instruments and activities.
Blackbutt Reserve is open every day during the school holidays. Wildlife exhibits are open 10am – 5pm, picnic facilities 7am – 7pm and the kiosk 10am – 3pm. Visit the Blackbutt Reserve website to find out more.
FORT SCRATCHLEY
Boasting one of the best panoramic views of Newcastle and with space for the kids to run wild and free, this historic landmark is a must do for all school holiday itineraries. Pack a picnic and enjoy the rolling grass hills overlooking the ocean, or book in for a tunnel tour where you will learn about this history of this amazing site. Stick around for the daily gun firing at 1pm (weather permitting)! For more details visit the Fort Scratchley website.
Fort Scratchley will be closed on Food Friday (2 April) but open as normal all other days from 10am – 4pm. The Fort is closed on Tuesdays.
POOLS & BEACHES
If it's still warm, enjoy the weather at local pool or beaches. Local swimming centres are open. Choose from Lambton Pool, Beresfield, Mayfield, Stockton and Wallsend pools.
Prefer the beach? Head to one of the beaches or ocean baths. All beaches are patrolled during the summer surfing season from 26 September 2020 until 18 April 2021. Nobbys, Bar and Merewether Beach are patrolled all year round
---
Lake Macquarie City Council
LAKE MACQUARIE CITY LIBRARY
Lake Macquarie City Library has organised loads of fun school holiday activities in their libraries and Rathmines Theatre.
Glitter Fish Suncatchers – Create a sparkly sun catcher to take home. Learn how you can recycle materials to make your own sun catcher. Suitable for ages 4 years plus.
JD's World of Magic Show – Be amazed by award-winning magician Joel Howlett from JD's World of Magic at his all new show. Suitable for all ages.
Kids Magic and Juggling workshop – Kids can learn magic tricks and juggling skills from award-winning magician Joel Howlett, from JD's World of Magic. This hands-on workshop is aimed at absolute beginners. Suitable for ages 7 years plus.
Write your own book – creative writing workshop for kids – At this workshop, children will create a short story, which they will then learn how to format into a book. Children will be guided through the process, and receive feedback from a published author. This creative writing workshop is ideal for children who would like to develop their story writing skills, and undertake the process of creating a book from beginning to end. Suitable for ages 9 years plus.
Paint me a story – See Chinese brush-stoke artist Stephen Cassettari at work, and enjoy a story with a difference. As Stephen paints different animals, he will tell a story through his paintings.
All about snakes storytime and craft -Join in for a fun morning all about snakes, with stories and craft.
Everyone will make their own snake to take home. Suitable for ages 4 – 8 years.
Insight into Snakes workshop – Kids, would you know what to do if you found a snake? Join reptile rescuer Teresa Purnell,for an insightful discussion on snakes, and what to do if you find one. Suitable for ages 6 years plus.
For more information and to book holiday sessions, visit Lake Macquarie City Council website.
MAC (MUSEUM OF ART AND CULTURE)
MAC is offering a range of activities and shows had been tailored to comply with COVID-19 guidelines, with smaller group sizes creating a more intimate atmosphere for participants. Visit the gallery for in-person workshops. Kids aged 7+ can be inspired by artworks on display at MAC.
Sun Print Workshop – Enjoy an exhibition walk through of First Class 2020 followed by a fun workshop where kids can make blue prints with sunlight. Ages 7+
Ceramic Workshop – Enjoy an exhibition walk through of First Class 2020 followed by a fun workshop where you can make sculptures using air dry clay. Ages 7+
Tie Dye for Teens Workshop – Teens can create their own Tie dyed t-shirt in this hands on workshop. Ages 12 – 16.
Bookings essential. All programs and events are run with COVID Safe Plans including social distancing, limited numbers and additional hygiene numbers.
For more information and to book holiday sessions, visit Museum of Art and Culture website.
LAKE MAC SWIM CENTRES
In Lake Macquarie, pools are open in Charlestown, Speers Point, Swansea, Morisset and Toronto. Lake Mac Swim Centres will be hosting intensive learn to swim programs at Charlestown, Speers Point, Swansea and West Wallsend Swim Centres throughout the holiday period.
---
Maitland City Council
MAITLAND CITY LIBRARY
Maitland City Library have a range of exciting activities available in-branch these school holidays relating to the theme "Explore". Explore invisible forces that impact how you move, the way things grow and your experience in the environment. have some fun with magnetism and find out if you can manipulate the force with some Jedi tricks.
Under Pressure Workshop – You can't see it, but we experience the pressure of air every day. Can you feel it? Find out how air pressure can overcome gravity and other amazing things the air around us can do. Ages 5+
Water Magic Workshop – Join in for some fascinating water experiments and find out if water sticks or if you can use copper to find hidden water pools, then challenge your friends and family at home. Ages 5+
May the Force Be With You Workshop – Invisible forces are all around us and you can manipulate them! Join the SMART team from the University of Newcastle for a workshop exploring forces and motion. Be a part of the action as you explore the world of magnetism. Ages 5+
Thornton and Rutherford Libraries have Discovery Zones. These are an exciting range of STEM centred activities for younger kids aged 2 -5 every day of the school holidays. These zones are specially designed to make learning fun. In fact, it won't even feel like learning!
For more information and to book holiday sessions, visit Maitland City Library website.
MAITLAND REGIONAL ART GALLERY
Visit MRAG and wander through their exhibitions. Some to note include ARTEXPRESS, Terminus and Made / Worn. ARTEXPRESS at Maitland Regional Art Gallery is an exhibition of 36 high achieving Visual Arts Bodies of Work from the 2020 Higher School Certificate Examination created by Year 12 students from schools in the Sydney Metropolitan and the Hunter Central Coast regions. Terminus is a virtual reality (VR) installation that transports the viewer into an imaginary landscape of colour and pattern by human clones, moving walkways and gateways to new realms.
Kids might enjoy Code Breaker which involves locating some hidden features in the art gallery. Grab them a clipboard with Code Breaker from the art gallery Front Desk and use the clues to break the code!
For more information, visit the Maitland Regional Art Gallery website.
MAITLAND GAOL
For a history fix, visit Maitland Gaol. It has now reopened for guided and self guided audio tours using your own device. Built in 1844, this former security maximum security prison was used to house convicts up until 1998. The gaol is one of the Maitland's most iconic tourist sites and provides locals and visitors with the opportunity to experience life on the inside of this once high-security prison.
Maitland Gaol offers a range of tours. Of the guided tours, the 150 Years Under Lock and Key Guided Tour is suitable for kids. You can also do self-guided tours of Maitland Gaol. Snitch's Gaol Exploration is suitable for primary school children. It uses 'Snitch the Rat' to tell the secrets of the gaol that he witnessed as the many criminals were brought in from the outside world. This tour is ideal for primary school-aged children as it offers a fun audio experience that is full of facts and stories that will entertain and educate.
There's also a range of school holiday fun. Join in Snitch's Easter Scavenger Hunt. hildren will explore the site looking for Easter clues, found by following the map to find specially marked locations to complete the code word puzzle. There's also Chapel Craft session in which families can enjoy a one hour guided tour of Maitland Gaol, learn about the Chapel space, before getting the chance to make a special coloured pattern to hang on your window at home. If your kid like slang, sign up for Junior Sleuth: Slammer Slang. This tour starts with a tour. After you've had a captain cook (look) around the Gaol with a tour guide, kids can decipher some slammer slang and use it in a sentence to baffle your parents.
---
INDOOR FAMILY FUN
JESMOND CENTRAL
Jesmond Central has exciting FREE events on for April School Holidays! There are complimentary airbrush tattoos for kids from Wednesday 7 – Friday 9 April from 10am to 1pm. Choose from a wide range of temporary tattoo designs including animals, flowers and characters from your favourite shows and movies! The tattoo paints are 100% removable with soap and water.
The following week, Jesmond Central are hosting mini golf from Monday 12 – Friday 16 April from 10am to 1pm. Looking for a hole lot of fun? Putt your way around the school holiday mini golf course and see if you can get a hole in one! Free play event, walk-ins welcome. No bookings required. Last tee-off 12:45pm.
WALLSEND VILLAGE
Visit Wallsend Village from Wednesday 7 April to Friday 9 April between 10am and 1pm for a school holiday Slime Lab. Kids can roll up their sleeves and make the ultimate slime at the fun-filled School Holiday Slime Lab! The slime your kids create will be theirs to take home. Plus, there will be an extra sweet surprise for each participant! Bookings essential.
MITCH REVS GALLERY
Be inspired in local Newcastle artist, Mitch Revs' very own gallery while enjoying a hands-on skateboard deck art class. Over the two hours, your little one will transform a blank skateboard deck into something entirely unique, with ongoing support from a friendly and talented artist. They'll learn to use Posca Pens and be taught how to draw Mitch Revs' iconic waves, skulls, bubble writing and flowers step-by-step. They can keep their creation as a piece of art or turn it into a functional skateboard they can show off during their next session at the skate park. You can use your Creative Kids Voucher. Ages 8 – 15.
CLEVERPATCH
Enjoy some craft during the school holidays! Local craft supply company CleverPatch is now a registered Creative Kids supplier and have a variety of kids craft packs that you can order with your $100 Creative Kids Voucher. These include Modelling, Papercraft, Tie Dye, Weaving, Marbling, STEAM/STEM, Sand Art, Drawing and Painting. These kits are perfect for some hands-on school holiday fun.
OUTDOOR FAMILY FUN
HUNTER WETLANDS CENTRE
Spend a day at Hunter Wetlands Centre in Shortland and learn about the Bunyip Bird. Its real name is the Australasian Bittern and it's a very shy wetland bird that is rarely seen. At Hunter Wetlands Centre, there are reeds and rushes and ponds, just the habitat it likes, but we haven't seen any Australasian Bitterns here for a long time.
In the April school holidays, families can learn more about the Bittern and other endangered birds and how we can help them. From Monday 5 April to Monday 19 April you can visit the Bittern Bird Hide and find out more about this mysterious bird. Search for the 12 bittern pictures hidden around the site and work out the message on them. You can also go dip-netting in the pond, climb the egret tower, bring your bike and ride around the trails, try canoeing, check out the reptiles and displays in the visitor centre and lots more. Bring a picnic or BBQ or eat at the Wetlands café
LAKE MAC KAYAK & BIKE HIRE
Lake Mac Kayak & Bike Hire deliver kayaks, SUP's & bikes to all areas of Lake Macquarie, 365 days a year. For the April school holidays, Lake Mac Kayak and Bike Hire will be offering discounted hire rate for kayaks and stand up paddleboards at Marmong Point at the end of First Street, Booragul. Bookings essential. It will be $10 SUPs, $15 for a single kayak an $25 for a double kayak for an hour. You can explore the Five Islands, Cockle Creek or just have an enjoyable paddle around the lake.
NEWCASTLE SURFEST SURF SCHOOL
Learn surfing over the Easter school holidays with Surfest Surf School. This school holiday surfgroms program is specially designed to make learning about beach safety and how to surf fun and easy. This program is taught by a Surfing Australia accredited surf school and runs throughout the Easter school holidays. Choose from a 1-day, 2-day or 3-day program.
SCAVENGER HUNTS
Get out and explore Newcastle! Newy with Kids has developed six family scavenger hunts printables to download for free. Download the self-directed scavenger hunt and then visit the location. You and your family will need to find various points of interest and answer the questions listed on the map to solve the mystery phrase. It's an opportunity to notice landmarks and interesting things you might not necessarily notice. There are six locations to choose from: Blackbutt Reserve, Civic Park & Honeysuckle, Foreshore Park, Stockton, Wallsend Brickworks Park and Newcastle Museum.
FAMILY WALKS & HIKES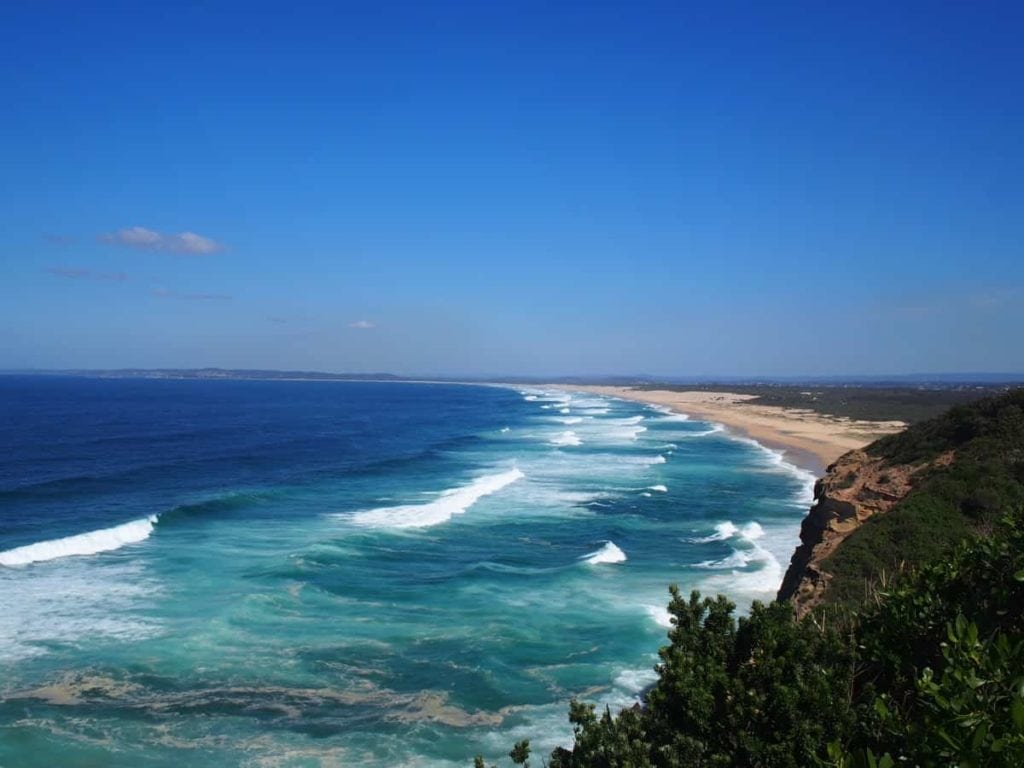 Go for a hike this autumn. Hike the Hickson Street Track down to Burwood Beach or the Yuerlarbah Walk at Glenrock Lagoon. Do the Awabakal walk from Dudley to Redhead Walk and enjoy panoramic views of the coast. Enjoy the Redhead Coast on the Ken and Audrey Owens Walk. Explore Shipwreck Walk, a walk along the Stockton Breakwater which incorporates the wrecks and hulks of several iron and steel ships within the structure. For more walks, check out our roundup of local family walks.
---
FEATURED ACTIVITIES
UNIVERSITY OF NEWCASTLE SMART PROGRAM
In April, SMART will offer four school holiday workshops, for children in years 3 to 6. Presented by The University of Newcastle's SMART Program, this 1-day school holiday workshop offers children from years 3 to 6 (Stage 2 and 3) a day of hands-on science experiments, games and construction activities. Kids can choose from a coding workshop with BBC micro:bit, Planet earth workshop or a Food, different by design workshop. Places are limited and registrations are essential via Eventbrite!
MAITLAND RIVERSIDE PLAZA
Join the Riverside Rabbit augmented reality adventures at Maitland Riverside Plaza. The Riverside Rabbit will be roller skating through the Plaza these school holidays.Friday March 26 – Friday 23 April – Daily 9am – 5pm. Plus, the first 100 customers to post their photos with The Riverside Rabbit will receive a $10 RiverShop gift card!
For more information, visit the Maitland Riverside Plaza website.
TERRACE CENTRAL
Join us for FREE professional photos with the Easter Bunny. Each family will take home a FREE 6×8" photo print and a digital photo to share on social media. Saturday 27 & 28 March from 11AM – 2PM. Terrace Central will also be hosting FREE Children's Easter workshops in Wonderland. Each child will receive one of the below activities to complete: Colouring in Easter bag, DIY Bunny Mark, Activity Bags DIY paper bunnies. The workshops run from Monday 29 March to Thursday 1 April from 10am to 2pm and Monday 5 April to Thursday 8 April from 10am to 2pm.
For more information, visit the Terrace Central website.
YWCA HUNTER
Are you working in the school holidays? Lucky for you, YWCA Hunter have lots of fun lined up for the kids during the April school holidays! They are taking enrolments now! The YWCA Hunter offers an innovative, FUN packed vacation care program that ensures the children of working parents, have a thrilling and enriching school holiday experience. The program caters for parents working in the inner city and local children alike. Through excursions, incursions and in-house theme days the children create, use their imaginations and physically challenge themselves while learning new skills and having fun. All activities are delivered through much fun, community awareness and interesting themes set under the 'My Time Our Place' government guidelines.
The program runs from 6 -16 April 2021 at YWCA Hunter, 24 Dawson Street, Cooks Hill. It's suitable for children attending primary school and activities Include: Theme Days, Craft, Art, Cooking, Games, Excursions, Lots of fun! The program costs from $60per day with the Child Care Subsidy (CCS) available for eligible families. For more information and to enrol, visit the YWCA Hunter website.
THIS IS ME, ABILITY & COMMUNITY
Join TIMAC for school holiday workshops in April. Choose from kids workshops in wet felting, Aboriginal art and storytelling, Pen Art and Tie-Dye. Their point of difference is that they are qualified and experienced in working with people/kids with a disability and although their workshops are open to everyone, it's the extra supports they put in place to make sure there is full inclusion. You can also use your Creative Kids voucher to pay for the workshop.
---
NEW RELEASE FAMILY MOVIES
Want to take the kids to the movies during the holidays? As usual, there's a few new-release family-friendly movies to choose from.
Peter Rabbit 2
Rating: G
Release Date: March 23, 2021
Duration: 93 minutes
Description: In PETER RABBIT™ 2, the lovable rogue is back. Bea, Thomas, and the rabbits have created a makeshift family, but despite his best efforts, Peter can't seem to shake his mischievous reputation. Adventuring out of the garden, Peter finds himself in a world where his mischief is appreciated, but when his family risks everything to come looking for him, Peter must figure out what kind of bunny he wants to be.
Trailer:Click here to watch the trailer
Raya and the Last Dragon
Rating: PG
Release Date: March 4, 2021
Duration: 114 minutes
Description: Walt Disney Animation Studios' Raya and the Last Dragon travels to the fantasy world of Kumandra, where humans and dragons lived together long ago in harmony. But when an evil force threatened the land, the dragons sacrificed themselves to save humanity. Now, 500 years later, that same evil has returned and it's up to a lone warrior, Raya, to track down the legendary last dragon to restore the fractured land and its divided people. However, along her journey, she'll learn that it'll take more than a dragon to save the world—it's going to take trust and teamwork as well. Raya and the Last Dragon features the voices of Kelly Marie Tran as Raya, a warrior whose wit is as sharp as her blade, and Awkwafina as the magical, mythical, self-deprecating dragon named Sisu. Characters also include a street-savvy 10-year-old entrepreneur named Boun, the formidable giant Tong and a thieving toddler Noi with her band of Ongis.
Trailer: Click here to watch the trailer
Tom & Jerry
Rating: G
Release Date: April 1, 2021
Duration: 101 minutes
Description: One of the most beloved rivalries in history is reignited when Jerry moves into New York City's finest hotel on the eve of "the wedding of the century," forcing the event's desperate planner to hire Tom to get rid of him, in director Tim Story's "Tom & Jerry." The ensuing cat and mouse battle threatens to destroy her career, the wedding and possibly the hotel itself. But soon, an even bigger problem arises: a diabolically ambitious staffer conspiring against all three of them. An eye-popping blend of classic animation and live-action, Tom and Jerry's new big-screen adventure stakes new ground for the iconic characters and forces them to do the unthinkable… work together to save the day.
Trailer: Click here to watch the trailer
Started in late 2012 by a local mum, Newy with Kids has grown into a thriving go-to family guide for the Newcastle, Lake Macquarie & Hunter region. Parents visit the Newy with Kids website to find things to do with babies, kids and teens. Whether it's local attractions, upcoming events, kids eat free, school holiday activities or birthday party ideas, Newy with Kids is the best website for local parents to find local kid-friendly activities and information 24/7.