Head out for a bike ride with your kids. We've put together a collection of our favourite family cycle routes in Newcastle LGA.
Explore historical and cultural sites, experience nature or enjoy stunning views of harbour and beaches. We've chosen a variety of family bike rides around Newcastle to suit a variety of ages and family members.
Newcastle Beach to Nobbys Beach Bike Path
The distance between beaches isn't a long one so it makes for a flat easy bike ride with kids. Start from Newcastle SLSC, follow the lower path and head around to the Canoe Pool and Newcastle Ocean Baths. (If you want more of a challenge, walk on the higher path by the road as it has more of a hill). You can stop for a quick splash in the Canoe Pool or continue around the bend towards Nobbys Beach. You'll pass Soldiers Baths, one of the first ocean baths built in Newcastle as well as the red sculpture Grounded commemorating the Pasha Bulka's grounding in June 2007.
Distance: 1km
Suitability: Flat
Nobbys Breakwall Bike Ride
Head out to Nobbys Breakwall on a bike ride. It's a flat paved path from the Nobbys SLSC to the end of the breakwall. Along the way, you'll see views of Newcastle Harbour, Stockton sand dunes and out to the ocean. Keep an eye out for seals as you'll sometimes spot them on the rocks.
Distance: 1.5km one way
Type: Flat. Avoid area in big seas as waves crash over the break wall.
Newcastle Harbour Foreshore Bike Path
This harbour bike ride really captures the essence of Newcastle with views of the harbour, beach and coal ships. You can start your bike ride at Nobbys Beach (parking available here) and head towards Honeysuckle or vice-versa. It's a flat, easy bike ride with plenty of ferries, tug boats and coal ships to watch. If you want to time your walk with the entrance or exit of a ship in Newcastle Harbour, you can consult the Port of Newcastle Schedule. The shared path does get busy though so watch out for pedestrians and other cyclists.
Distance: 2.2 kilometres one-way
Type: Flat
Hunter Street Trial Cycleway
Newly unveiled in September, this trial cycleway is an alternative to riding along Honeysuckle. The cycleway, stretches between National Park Street (near the Old Spotlight shop) and Worth Place (just west of Newy Burger Co), runs on both sides of Hunter Street, separated from the road and traffic with curbing and plastic bollards. The paths go in one direction and cater to bike riders of different riding ability.
Distance: 685m
Type: Flat
Bar Beach to Merewether Bike Ride
Bike along Bathers Way, a beautiful coastal route. It starts at Bar Beach where there's plenty of parking. It's a flat easy walk until the path heads up the hill to Dixon Park where it becomes flat again towards Merewether. You might have to help kids get up the hill and steady them on the hill down to Merewether. If your kids want a break , there's playground equipment at Empire Park in Bar Beach and also Dixon Park.
Distance: 1.95km one-way
Suitability: Flat path until the hill at Dixon Park. Better for older kids or kids with stamina.
City Centre to Merewether Cycleway
If you don't want to struggle to find a carpark at Merewether Beach, bike instead from The Junction. A new 2.5, shared bike path has opened along Watkins Street, Merewether, linking Glebe Road, The Junction, with Merewether Beach.
Distance: 1.1km one-way
Suitability: Flat path
Throsby Creek Loop
Go for a bike ride around Throsby Creek through the suburbs of Carrington and Maryville. What was once treated as a stormwater drain, Throsby Creek is now a thriving place filled with natural wildlife and people. Start your bike ride at Carrington foreshore and head west along Throsby Creek. If you want a longer bike ride, you can take a detour and head towards Islington Park.
Distance: 2.5 kilometres from Carrington to Cowper Street Bridge, Maryville
Type: Flat path. The path changes from concrete to gravel and then back to concrete.
For more information, read our guide to the Throsby Creek Loop Through Carrington & Maryville
Stockton Shipwreck Walk
To see reminders of Newcastle's maritime history, take your kids for a bike ride along the Shipwreck Walk along the northern breakwater in Stockton. During the 19th and early 20th centuries, many ships were shipwrecked as they tried to navigate entry in Newcastle Harbour. Today, it's a fun family trek which combines history with scenic views. Although the remains of timber ships didn't remain, the wrecks and hulls of steel and iron ships remained and were used in the construction of the breakwater. You can see the rusted hulk of the Adolphe, a French vessel that was shipwrecked in 1904.
Distance: 2km
Type: Flat wide path
For more information, read our guide to the Stockton Shipwreck Walk
Stockton Foreshore Walk
If you want a longer bike ride in Stockton, follow the Stockton Foreshore Walk. North of the harbour, the Stockton shared path stretches from Stockton Bridge all the way around the peninsula to the Stockton pool and the start of the breakwall. At approximately 7km, mostly flat and lightly used, it is a fantastic path to bike with kids. There are fantastic views of Stockton Bridge, the harbour, Nobbys Headland plus three playgrounds to visit along the way.
Distance: 7km one way from Stockton Bridge to Stockton Breakwall.
Type: Flat shared path
For more information, read our guide to Stockton Foreshore Shared Path
Fernleigh Track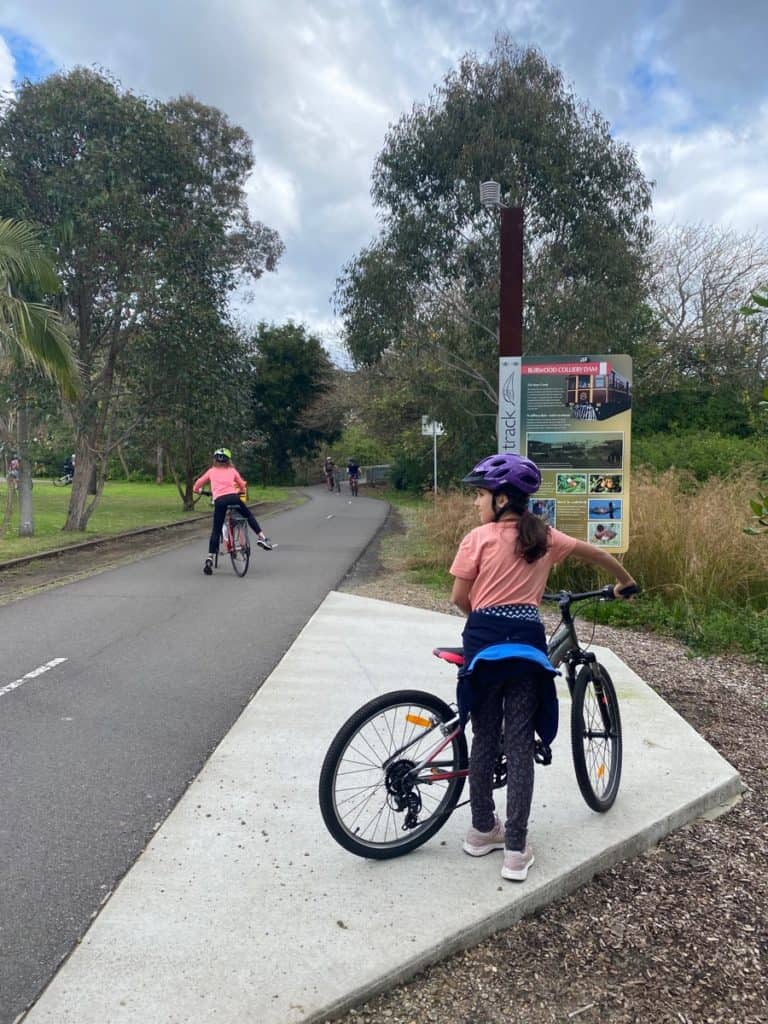 A former rail line with a tunnel, the 15 kilometre Fernleigh Track is a popular cycling path connecting Lake Macquarie & Newcastle. It has multiple entry and exit points, which means you can tackle as little or as much as you like – from a quick bike ride to a half-day adventure. The track is well maintained, with gentle slopes and wide pathways, so it's ideal for all fitness levels.
The trail is dotted with points of interest including natural and historical information and shady benches.
Distance: 15km one way
Type: Flat to moderate.
For more information, read our guide to the Fernleigh Track.
Wallsend to Glendale Tramway Track
A former steam tram route, the Tramway Track is a 3.9km off-road walk and cycleway connecting Glendale in Lake Macquarie to Wallsend in Newcastle. If you've driven along Lake Road from Wallsend to Glendale, you'll know how the road climbs up to the high point before descending down to Glendale. However, this track located down in the gully is a much easier way to get from Wallsend to Glendale as it has a steady shallow 3% gradient which was necessary for steam trams. It's still a bit hilly though so it's best for kids with some endurance.
Distance: 3.9km one way
Type: Hilly in spots
For more information, read our guide to the Wallsend Glendale Tramway Track
Wallsend Brickworks Park
This is a great spot for families to bike around for a short walk. It features a playground, nature trails and a peaceful pond area with an observation area and abundant birdlife. The bike trails are dirt but they aren't that long so it's good for little ones. Plus, if you want to go further, there are bike trails that link up to Victory Parade and then bike trails heading to Jesmond Park.
Distance: 500m loop from brick sculpture past bird observation area
Suitability: Path up to brick sculpture is paved. Trail then becomes dirt.
For more information, read our guide to Wallsend Brickworks Park.
Jesmond Park
Jesmond Park is the start of a few different bike rides. You can ride west and link up to the Brickworks Park in Wallsend or you can bike up to John Hunter Hospital (1.4km uphill to the hospital). There are also mountain bike trails through the bush. The trails have steep hills, so a warning for little legs, but there are some really pretty rocky spots that you ride through and even a bordering paddock with horses which is a treat for the kids.
Distance: 1.4km to hospital
Suitability: Mix of flat paths and uphill paths
For more information, read our guide to the Jesmond Park
Lambton Park
For a pleasant suburban bike ride, do a loop or two of Lambton Park. There are paved paths all around the perimeter of the park. Along the ride, you'll pass Lambton Pool, playing fields, a Street Library, Lambton Library, rotunda and popular Lambton Park Playground. The shared paths along Howe Street are especially pleasant as they are flanked by large shady trees.
Distance: 1.63km circuit
Suitability: Flat wide path
For more information, visit Lambton Park
Blue Gum Hills
Head to Blue Gum Hills Regional Park at Minmi / Fletcher. This is a lovely large bushland park which was rehabilitated from its open cut mining site into a community park. It's a great place to enjoy a bike ride with your family. There are cycling tracks throughout the park including the 2km Loop Road Track which takes you past coal mining infrastructure. Along the way, you'll spot the large 1870s brick tower of an original ventilation shaft from the old mine. It's a fun nature bike ride for kids as it's mostly flat.
Distance: 2km on Loop Road Track
Type: Mostly flat dirt tracks
For more information, read our guide to Blue Gum Hills Regional Park.
Farmhouse Track at Kooragang Wetlands in Hunter Wetlands National Park
Cycle through Kooragang Wetlands, the location of a former WWII radar station. 131 Radar Station Ash Island was built in 1942 to protect Newcastle during World War II. From Riverside Park, you can follow the gravel trail Farmhouse Walking Track through the pastures towards the WWII radar stations. It's approximately 1 kilometre there along a flat trail. Along the way, you'll pass Milham's Farmhouse or what's left of it. You'll need to cross Milham Road and venture down another short trail (keep an eye out for Cabbage Palms) and then you'll spot the concrete igloos.
Distance: 1km one-way
Suitability: Flat gravel path
For more information, read our guide to Hunter Wetlands National Park
Scotts Point Way Walk at Kooragang Wetlands in Hunter Wetlands National Park
If you feel like a bike along the river, there is a 1.4 kilometre one-way trail which is especially scenic. You don't need to cycle the entire track but head as far as Scott's Point. Here you'll find a rest stop to relax as well as information panels. There is a lovely little beach you can explore as well as seeing the mangroves up close.
Distance: 1.4km one-way
Suitability: Flat dirt / gravel path
For more information, read our guide to Hunter Wetlands National Park
Find a Newcastle bike ride on a map
Started in late 2012 by a local mum, Newy with Kids has grown into a thriving go-to family guide for the Newcastle, Lake Macquarie & Hunter region. Parents visit the Newy with Kids website to find things to do with babies, kids and teens. Whether it's local attractions, upcoming events, kids eat free, school holiday activities or birthday party ideas, Newy with Kids is the best website for local parents to find local kid-friendly activities and information 24/7.