The Lake Macquarie region is a great one to get on your bike. There are lots of cycle trails to enjoy with your kids. We've put together a collection of our favourite family bike rides and mountain bike trails in Lake Macquarie to suit a variety of ages and abilities. Explore historical and cultural sites, experience nature or enjoy stunning views of the lake.
Check out our list of Lake Macquarie bike paths. We provide a brief description plus a handy regional map to locate the cycle path.
---
Warners Bay to Speers Point
Enjoy Lake Macquarie views and a variety of art sculptures on a lakeside bike ride. Part of a larger shared pathway around the lake, the bike track from Warners Bay to Speers Point is a fun one to do with kids. This flat path follows the shore of the beautiful Lake Macquarie and is a fully paved shared path. It ends up at Speers Point Park, perfect for a play at the massive Lake Macquarie Variety Park.
Distance: 3.6km from Warners Bay to Speers Point
Type: Flat
For more information, read our guide to the Warners Bay Sculpture Walk.
Eleebana to Warners Bay Foreshore
Start at Lions Park in Eleebana for a short flat bike ride to Warners Bay Foreshore. Along the way, you'll bike across water on the Red Bluff Shared Pathway. You can combine this with the Warners Bay to Speers Point bike ride or stop for a drink or snack at Warners Bay.
Distance: 2.1km from Eleebana Lions Park to Warners Bay
Type: Flat

Fernleigh Track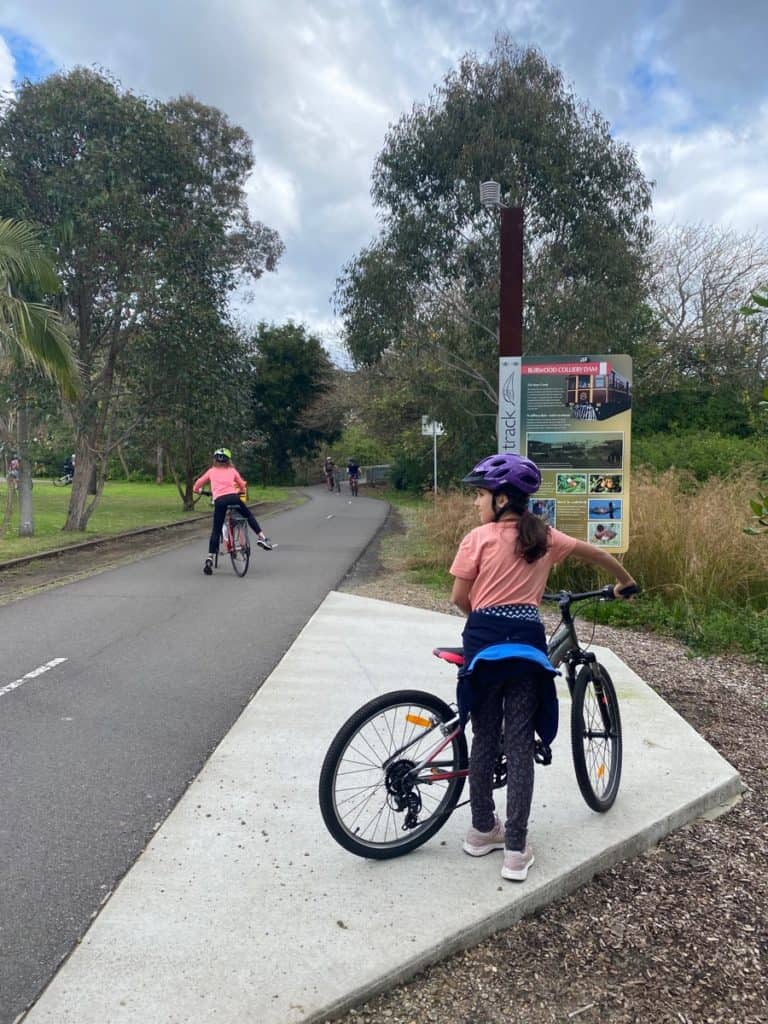 A former rail line with a tunnel, the 15 kilometre Fernleigh Track is a popular cycling path connecting Lake Macquarie & Newcastle. It has multiple entry and exit points, which means you can tackle as little or as much as you like – from a quick bike ride to a half-day adventure. The track is well maintained, with gentle slopes and wide pathways, so it's ideal for all fitness levels. The trail is dotted with points of interest including natural and historical information and shady benches.
Distance: 15km one way
Type: Flat to moderate.
For more information, read our guide to the Fernleigh Track.
Green Point Reserve
The Green Point Foreshore Reserve area connecting Belmont and Valentine is a great spot for a bike ride. There is plenty of space to enjoy lake views, scenic lookouts and picnic and barbecue areas too. Formerly a coal mine from 1863 to 1982, the area is now a beautiful lakefront reserve. It's a stunning spot and one that is easy to explore with kids on bikes. You can bike on the shared concrete pathway on the Black Jack Pathway from the Shores Way park entrance all the way to Green Point Drive.
Distance: 3.4km
Type: Mostly flat until the path inclines before Sea Eagle Park. The path then climbs a bit before levelling out.
For more information, read our guide to the Green Point Walk
Glendale to Wallsend Tramway Track
A former steam tram route, the Tramway Track is a 3.9km off-road walk and cycleway connecting Glendale in Lake Macquarie to Wallsend in Newcastle. If you've driven along Lake Road from Wallsend to Glendale, you'll know how the road climbs up to the high point before descending down to Glendale. However, this track located down in the gully is a much easier way to get from Wallsend to Glendale as it has a steady shallow 3% gradient which was necessary for steam trams. It's still a bit hilly though so it's best for kids with some endurance.
Distance: 3.9km one way
Type: Hilly in spots
For more information, read our guide to the Wallsend Glendale Tramway Track
Rathmines
Head for a lakeside bike ride at Rathmines. Starting at Overhill Road, bike through Styles Point Reserve and by the lake along the wide paths. Rathmines Park is an important historical site as it was the home to the RAAF Catalina Flying Boat Base with 14 Catalinas and almost 3000 officers at its peak making it the largest flying boat base in Australia. If kids feel like a play, stop at the plane-themed playground in Rathmines Park.
Distance: 2km one way
Type: Flat
For more information, read our guide to the Rathmines Park
Wangi Wangi
Enjoy a flat lakeside ride at Wangi Wangi Bay. This cycle ride along Wangi Bay starts at the Wangi Workers Club and finishes at Wangi RSL Club.
Distance: 1.4km one way
Type: Flat
Glenrock Reserve
Probably the most famous mountain biking track in the Newcastle region, Glenrock has trails for all levels of bike riders. With beautiful bush trails that have glimpses of the ocean, there are over 40km of tracks but for kids, look out for the green level circle. These are signposted and are a great introduction to the lush woodlands, waterfalls and open forests of the Glenrock area, which is a stone's throw from Newcastle's city centre. It can get busy here so pick times that are off-peak if you're trying mountain bike riding out for the first time.
Distance: Various lengths
For a detailed description of the tracks, read Tracks Less Travelled's blog about Glenrock MTB Park.
Holmesville Mountain Bike tracks
Begin this path at the Kevin Evans Oval on Appletree Rd in Holmesville, then head west on. The gravel road travels alongside the oval until it opens up to a network of marked mountain bike trails. This a fantastic set of easy, fun and twisty mountain bike trails.
Distance: Various lengths
Awaba Mountain Bike Park
Head out for some mountain biking at Awaba Mountain Bike Park set within the Awaba State Forest. The 'Tunnel Loop' has been designed especially for kids and there are also Adaptive and Development Trails which are wider than normal tracks and have been built with inclusion in mind.
Distance: Various lengths
Find a Lake Macquarie bike ride or mountain bike trail on a map
If you're looking for walks in Lake Macquarie, visit The Best 20 Lake Macquarie LGA Walks To Do With Kids or a Lake Mac picnic spot Best Picnic Spots in Lake Macquarie LGA to Meet Up With Friends
If you're looking for walks in neighbouring LGAs, check out our guide The Best 20 Newcastle LGA Walks You Must Do With Kids
Started in late 2012 by a local mum, Newy with Kids has grown into a thriving go-to family guide for the Newcastle, Lake Macquarie & Hunter region. Parents visit the Newy with Kids website to find things to do with babies, kids and teens. Whether it's local attractions, upcoming events, kids eat free, school holiday activities or birthday party ideas, Newy with Kids is the best website for local parents to find local kid-friendly activities and information 24/7.