Located two hours west of Sydney, the Blue Mountains in New South Wales is a fabulous destination for a family holiday with plenty of fun activities for both parents and kids! See The Three Sisters in Katoomba, visit Scenic World and ride the Scenic Railway, explore the Jenolan Caves or head for a family hike through the Blue Mountains World Heritage Area. Between the attractions, cafes and events, there's plenty to keep everyone happy on a Blue Mountains family holiday.
Jump to a specific section to enjoy the Blue Mountains with kids: Attractions | Places to Eat | Places to Stay | More Info

Attractions
Scenic World
Don't leave the Blue Mountains without visiting Scenic World in Katoomba. It's a fantastic attraction which gives you different views of the Blue Mountains and the magnificent Jamieson Valley.
As you enter the complex, you can see the iconic Three Sisters rock formation across the valley. Known to locals as Meehni, Wimlah and Gunneddoo, the Three Sisters feature in local Aboriginal stories.
These three weathered sandstone peaks stand at 912m, 918m and 906m respectively and judging by the cameras clicking around us are easily the most photographed attraction in the Blue Mountains.
Scenic World consists of the Scenic Cableway, Scenic Railway and Scenic Skyway. The smooth-riding Scenic Cableway descends 545 metres into the Jamison Valley. Keep an eye out for great views of the Three Sisters.
Once down in the valley, you emerge onto the Scenic Walkway and are immediately surrounded by ancient, temperate rainforest.
The walkway totals 2.4 kilometres and is ideal if you want to push a stroller or pram around. Just keep in mind you won't be able to take it on the Scenic Railway. You'll need to travel on the Cableway back.

To get back up, you can get on the Scenic Railway. At a 52 degree incline, the Scenic Railway is the steepest incline railway train in the world. It's also very popular but it's worth the wait. It's a fantastic thrill going up the cliff face towards the escarpment.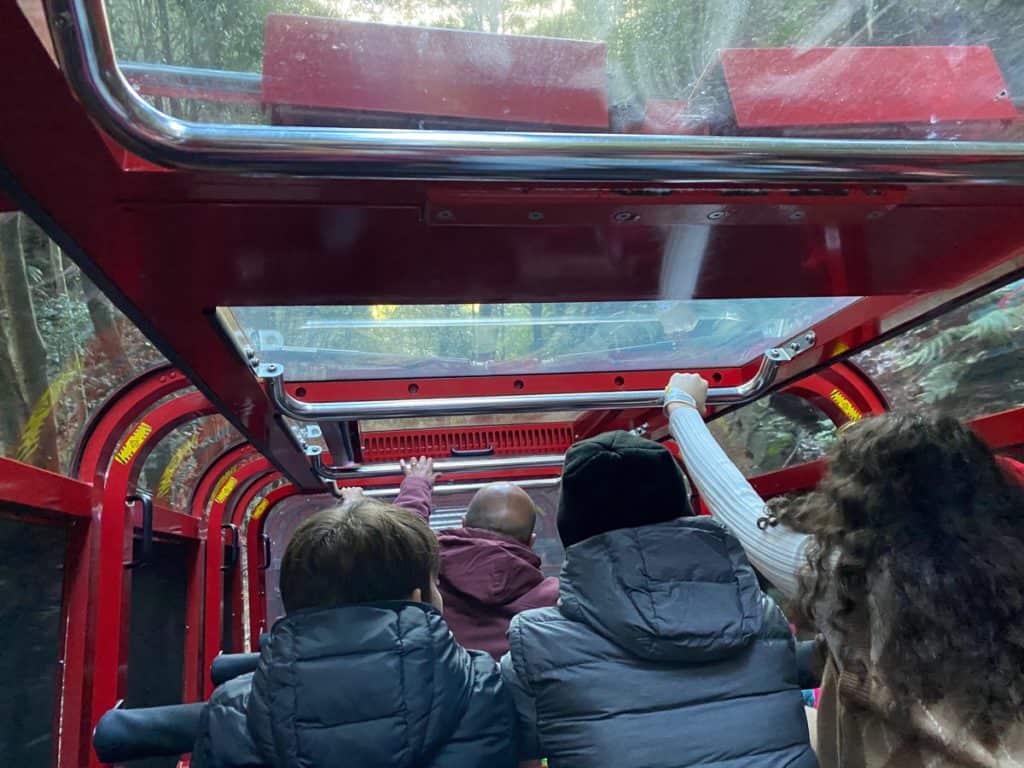 From our seats, we can see the Three Sisters and the entire valley until our view is blocked and we're plunged into darkness as we traverse through a cave before arriving at the Top Station.
To go across the valley, you'll have to travel on the Scenic Skyway. This cable car travels 270 metres over the Jamison Valley and there are spectacular 360 degree views from every angle of the cable car including the middle which features a glass floor. From here the views of the Three Sisters and Katoomba Falls are incredible. It's a 720 metre journey over to the eastern station so only takes a few minutes.
Insider Tip: It can get really busy at Scenic World with tour groups day tripping from Sydney. Either get there early in the morning or after lunch. Stop for lunch at Terrace Café which offers a range of different food as well as sensational views across the valley.
Scenic World is a great spot for families. All Scenic World experiences are suitable for children of any age. However, babies and small children must be held by an adult on the rides as there are no baby seats provided. For families, there's pram parking, baby change facilities and storage lockers located in the Main Building.
With limited capacity due to COVID-19 restrictions, they are offering timed-ticket entry for all guests, and strongly advise booking ahead ONLINE. Currently open Friday, Saturday, Sunday and Monday.
You can tailor your Family Pass to reflect the number of children and adults in your family group. Additional children can be included in your Family Pass at a discounted rate.
If you can time your visit, visit the annual Sculpture at Scenic World during April / May. The valley showcases thought-provoking artworks from local, national and international artists.
For more information, read the Newy with Kids review of Scenic World.
Scenic World Corner of Violet Street & Cliff Drive, Katoomba, NSW
1 300 SKYWAY or (02) 2 4780 0200
Website
Echo Point Lookout
For a closer look at the Three Sisters formation, venture to the Echo Point Lookout. The best view of The Three Sisters is from the Echo Point lookout. From here, you'll enjoy views of the entire Jamison Valley. From the lookout, you can do a number of walks.
For those with young kids, there's the short 0.8 km Three Sisters Walk. This flat walk starts near the Echo Point Visitor Centre. It's an easy gentle slope for the first 400 metres as you get closer to the Three Sisters and the usual blue haze of the Valley (which comes from the eucalypt forests). You'll approach the Lady Game formation for a view of the rock formation. Finally, a short steep set of stairs leads you to Honeymoon Bridge which connects to the first Sister. On the way back, stop off and see Spooners Lookout which has a great view of the Three Sisters as well.
If your family has more energy, follow the Prince Henry Cliff Walk which connects Echo Point to Leura Cascades or go down the more than 800 steps of "The Giant Stairway" walk to explore the valley floor.
Insider Tips: Visit early in the morning or later in the afternoon to avoid the crowds from tour buses. There's lots of paid parking in Echo Point parking lot. Use the toilets at the Echo Point Visitor Centre.
Echo Point
Katoomba, NSW
Website
Sublime Point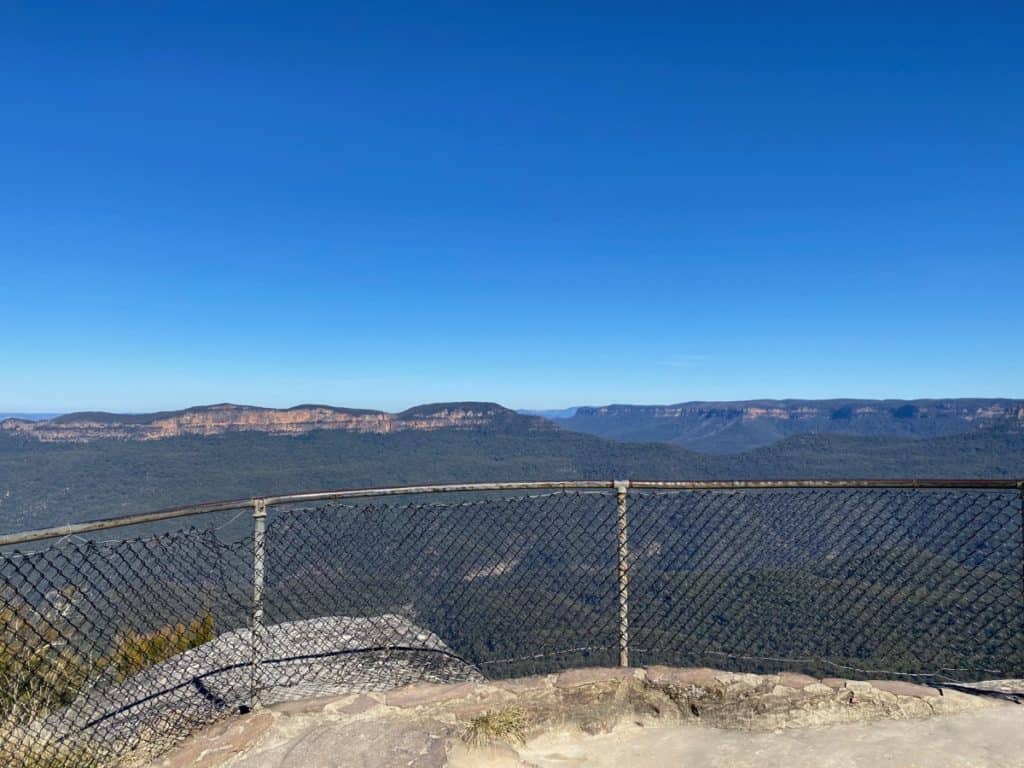 The Sublime Point lookout is a favourite of locals as it's never busy and the views are simply sublime. (There's not enough space for tour buses to stop or park so it's a lot less busy than other lookouts). As it's a minor lookout, the fencing isn't as secure as other lookouts, so if you take kids along, hold on to their hands.
Insider Tip: Watch the sun set at Sublime Point.
Jenolan Caves
Explore the mysteries of underground at the Jenolan Caves. These caves formations are fascinating to walk through. Although there are more than 300 documented caves, eleven caves are accessible to the public via a guided tour.
Although you can walk around the outside of Jenolan Caves, it's recommended to do a guided tour of one of the caves. There's many to choose from depending on what you want to see and the age of your children. We opted for the Chifley Cave when we visited. During the 1 hour tour, you'll learn how the caves are created and see different geological features including an amazing rainbow light display inside a cave. Even if kids aren't that interested in learning about caves, it's a fascinating tour as during the Chifley tour, we ascend metal stairways and squeeze through narrow passages. It's a fascinating introduction to the world of caves with interesting things to see such as stalagmites and stalactites.
Your family can also try adventure caving. Kids aged 10 and up and their parents can go on the Plughole Adventure' tour, a 2 hour adventure that involves a series of climbs, squeezes and crawls.
There's also many scenic walks around the cave complex including the Carlotta Arch Walk where you'll see a sensational view through the arch.
Insider Tip: For families, the best caves to tour would be the Imperial or the Chifley. For families with kids aged toddler to four, the Imperial Cave is ideal being the easiest cave to navigate. For kids who are four and older, the Chifley is recommended. For older kids, consider caves such as the Orient, Temple of Baal or The River Cave. The caves can be a bit cold so layer accordingly.
Download the Jenolan App ahead of time (Wifi is pretty weak at Jenolan) to learn more about the caves including bushwalks around the complex.
It's a 1¼ hour drive from Katoomba passing through some lovely countryside. However, be warned the last 8 kilometres is downhill and very narrow and winding. But you're rewarded at the end as you actually have to drive through a giant cave to access the car park.
Jenolan Caves
4655 Jenolan Caves Road, Jenolan Caves, NSW
1 300 763 311
Website
Blue Mountains Cultural Centre

To learn more about the history and natural landscape of the Blue Mountains, visit the Blue Mountains Cultural Centre. The permanent collection includes information about the geology, flora and fauna of the Blue Mountains. Watch Into the Blue, a multimedia exhibition that explores the history and natural landscape of the region. There's also temporary exhibitions which are hosted by the Centre. If it's a nice day, venture outside to the viewing platform where you can enjoy views of Katoomba and the mountains.
Insider Tip: It's a great spot to take the kids on a rainy day. Combine it with a trip to the library next door.
Blue Mountains Cultural Centre
30 Parke Street, Katoomba NSW
02 4780 5410
Website
Everglades House & Gardens

Located in Leura, the Everglades House and Gardens are a wonderful treat for both kids and adults. Now a National Trust site, the 1930s Art Deco home is set upon 5.2 hectares of gardens and enjoys unrivalled views of Mt Solitary and the Jamison Valley. Explore the gardens – you'll find trees from all over the world. Follow winding paths and discover the Reflection Pool and the Grotto pool.
For those with young kids aged 3 to 7, purchase the kids pack My Adventure at Everglades. This will keep them busy with activities such as the Garden Detective Program, Sculpture Trail, activity book and more.
Enjoy Devonshire Tea in the Everglades tea rooms. The tea rooms are open all week, year-round and you can enjoy tea (including herbals), local apple juice, Devonshire tea and freshly baked cake. Just contact Everglades prior to your visit to ensure the Tea Rooms aren't booked out as it's run by volunteers.
Insider Tip: If you can, visit in spring when the cherry blossoms and daffodils are blooming or visit in autumn when the leaves change colour.
Everglades House & Gardens
37 Everglades Avenue, Leura, NSW
02 4784 1938
Website

Bushwalking in the Blue Mountains

You can't visit the Blue Mountains and not do a bushwalk in the Blue Mountains National Park. However, choose a hike that suits your family. A favourite for families is the Charles Darwin walk in Wentworth Falls. It's a flat 5km return walk. Tell your kids that they're following in the footsteps of the famous naturalist, Charles Darwin, who walked this popular track in 1836. It starts from Wilson Park and follows a boardwalk and bush track. You can cool your feet in rock pools along the way on a hot day.
You can also do some short walks at Gordon Falls Reserve in Leura. It's a great spot for families with the family-friendly Gordon Falls lookout, picnic area and a playground. Take the Lyrebird Dell walking track (medium difficulty) down to the scenic Pool of Siloam and see the waterfall.
Older kids might enjoy the more challenging National Pass walk. It's a long walk which takes between 2 1/2 and 3 1/2 hours. It starts at Wentworth Falls picnic area and passes stunning lookouts with sweeping views of the valley as well as waterfalls splunging down into the Jamison Valley, before reaching the historic Grand Stairway.
For more family bushwalks, check out Blue Mountains Mums article about The Best Bushwalks for Kids in the Blue Mountains.
Places to Eat in the Blue Mountains
Gingerbread House

For a sweet treat, visit the Gingerbread House café in Katoomba. It's a terrific spot for chocolate lovers and kids will love this lolly shop. Set in a former church, the Gingerbread House features high ceilings, lots of windows and features heavenly delights.
Everywhere you look there are sweets and treats. The glass cabinet is filled with delicious looking cakes and ice cream flavours while the shop is full of decadent treats.
You can either eat inside or out but we preferred being outside as it's fantastic for families. It has a fully fenced yard with plenty of room for kids to run around. It even features toys and a cubby house.
Insider tip: Order a hot chocolate and some cake. Delicious!
The Gingerbread House
56 Waratah Street, Katoomba NSW
02 4782 6958
Website
Leura Garage

Enjoy a meal at the Leura Garage. This former garage is now an award-winning restaurant, cafe and bar. It features delicious locally sourced food and has a kids menu as well. The decor is fantastic and incorporates tires, mufflers and other elements of its original business.
Insider tip: Book in advance. This place gets busy.
Leura Garage
84 Railway Parade, Leura, NSW
Website
The Conservation Hut

The Conservation Hut at Wentworth Falls is a popular spot with those starting or ending a bushwalk. However, it's also a great place just to enjoy the view and soak up the atmosphere of the Blue Mountains. Eat and enjoy a view of the National Park from the balcony.
Insider tip: Sit outside on a warm day.
The Conservation Hut
Fletcher Street, Wentworth Falls, NSW
Website
Places to Stay in the Blue Mountains
Fairmont Resort Blue Mountains
Packed with family-friendly amenities, the Fairmont Resort Blue Mountains is ideal for families. It features large comfortable rooms, great moutain views, a selection of hotel restaurants and warm friendly staff. There's plenty for kids to do including two different games rooms. One is Dane's Room, a games designed for kids aged 4 and under. It's full of age-appropriate toys and rides for babies and toddlers to play with. There's a small jungle gym, toy cars and a ball pit. For older kids, there's a room next door called KidZone which is for kids aged 5 to 13 which features a giant jungle gym and Wii games.
There's also Arcade Alley which contains a mini-bowling alley, mirror maze and classic arcade games like pinball. In addition, the resort features two pools, an outdoor pool as well as another indoor pool and spa. Next to this area is the day spa. The resort also features its own 128 seat cinema and screens free kids movies on weekends and school holidays. Also on offer is the Fairmont Express train which travels around the resort as well as a Merry Go Round which offer rides for a fee which is donated to the Schwartz Family Foundation. For sporty families, there's walking trails and tennis courts as well as Segway tours. Visit during school holidays and you'll find a number of school holiday activities just for kids.
Fairmont Leura Resort
1 Sublime Point Road, Leura NSW
02 4785 0000
Website
Leisure Inn Spires
Does your family prefer self-contained accommodation when you travel? Check out the Leisure Inn Spires. Set on 3 acres of beautifully landscaped grounds, Leisure Inn Spires offers studio rooms as well as self-contained, one and two bedroom apartments. The apartments contain a full kitchen, perfect for self-catering plus a separate lounge and dining room. Centrally located in Leura, it's less than a minute to the Leura Train Station and close to cafes, restaurants and shops in Leura's main street.
Leisure Inn Spires
100 Leura Mall,Leura NSW
02 4784 4999
Website
Blue Mountains YHA
If you're looking for comfortable budget accommodation, try the YHA Hostel in Katoomba. Centrally located in Katoomba, this YHA is a beautifully restored National Trust building. Choose from a range of rooms including multi share, double/twin and family rooms. To book a family room rate, there must be at least one child under 18 and 1 or 2 adults. There's free parking and free internet. Close to the Aldi supermarket, you can buy groceries and self-cater at the hostel.
Blue Mountains – Katoomba YHA
207 Katoomba Street, Katoomba NSW
02 4782 1416
Website
More Info
Blue Mountains is a three hour drive from Newcastle via Sydney using toll roads M2 and M7.
For more information, visit the Blue Mountains Tourism website.
Want more travel inspiration?
Started in late 2012 by a local mum, Newy with Kids has grown into a thriving go-to family guide for the Newcastle, Lake Macquarie & Hunter region. Parents visit the Newy with Kids website to find things to do with babies, kids and teens. Whether it's local attractions, upcoming events, kids eat free, school holiday activities or birthday party ideas, Newy with Kids is the best website for local parents to find local kid-friendly activities and information 24/7.