Take a trip out to Coonabarabran, New South Wales. There is heaps to do on a family trip out to this area including the Siding Springs Observatory, walking in Warrumbungles National Park and stargazing in Dark Sky Country.
Siding Springs Observatory
Located a 30-minute drive from Coonabarabran, Siding Spring Observatory is Australia's largest telescope and is worth visiting, even just for the views from the site.
The observatory is open from Thursday to Sunday from 10 am – 2pm and open daily during school holidays from 10am to 2pm. You'll need to book ahead into a tour. The "Hop into Siding Spring" tour costs $2 and provides a 15 minute introduction to the site by a guide and access to Anglo Australian Telescope Visitors Gallery. When we visited, guided tours weren't available so we did our own tour.
Instead, we first explored the Visitor Centre. It contains an exhibition with details of Siding Spring and other interesting space facts.
For kids, there are interactive exhibits to keep them engaged.
Our favourites include the weight on other planets, colour spectrum and meteorites.
It's then a walk up to the Observatory.
You can enter the Visitors Gallery, take the elevator and see this massive telescope.
When you come out from the Observatory, take a few minutes to enjoy the views from high up on the hill. They're pretty spectacular.
Solar System Drive
One thing you'll notice at the Sliding Springs Observation is the Solar System Drive sign. This is the World's Largest Virtual Solar System Drive on a much smaller scale (38 million times smaller to be exact).
Siding Springs Observatory is designated as the sun and consists of five tourist drives from different destinations including Dubbo Gulgong, Merriwa, Tamworth and Moree. It's fascinating to drive by the different planets and see their relative distance to each other. The three-dimensional planets on the billboards are scaled in size relative to the huge observatory dome. Wait until you see the size of the larger planets!
You'll find Mercury, Venus, Earth, Mars and Jupiter on the way back to Coonabarabran but Neptune and dwarf planet Pluto are much further. It's fun to see and pose with planets.
Warrumbungles National Park
Warrumbungles National Park is pretty spectacular. The site of a former large-shield volcano, the spires and domes remain and are easily spotted as you travel through the park. It's a beautiful place that has picnic spots, kid-friendly walks and plenty of fresh air and nature to enjoy.
Warrumbungles Visitor Information Centre
If you want some information about walks, picnic spots or park conditions, start with a visit to the Warrumbungles Visitor Information Centre. It's a great introduction to Warrumbungles National Park with interesting exhibits about the park. In addition, you can purchase park passes, drinks, souvenirs and limited grocery items
Check out their various exhibits which have lots of interesting information to read and play with.
The information centre is kid-friendly with things to pull out and touch and read.
It's a great introduction before you do some bushwalks around the National Park.
Whitegum Lookout Walk
Although there are lots of walks in Warrumbungles National Park, we started with the Whitegum Lookout walk. This is an easy walk on a sealed path so it's good for wheelchairs and prams.
It's a 1km return and takes about 30 minutes. The path ventures through various tree types including Red Gum, White Box and Ironbark Gums.
At the end of the walk, you'll see expansive views over Grand High Tops, Bluff Mountain and Mt Exmouth.
This lookout is recommended as a great place for viewing sunsets.
You'll spot a sign asking you to snap and share. This is part of a project to build an online picture gallery to show how the park is recovering after a wildfire destroyed much of the park in January 2013.
Fans Horizon Walking Track
The next day, we ventured out on the Fans Horizon Walking Track which starts from the Pincham Car Park. (You'll find toilets here, so go before you start your walk).
This is also the starting point for other walks. Around us, hikers were getting ready to do the famous Breadknife, Grand High Tops and Mt Exmouth walks. We instead opted for the Fans Horizon trail as we're bushwalking with a kid. This walk is a 3.6km return and takes approximately 1.5 – 2.5 hours depending on how fast you walk.
The trail starts pretty flat and then starts to climb through eucalypt forest. Fans Horizon is designated as moderate to steep and has many steps. In fact, there are over 1000 steps to climb up.
However, the path is well-formed and it's easy to stop and take a break when you need to.
Along the way, you'll spot flowers, birds, sandstone caves, lizards and other things to distract you from all the steps ahead.
At the top, you'll be rewarded with the beautiful Fans Horizon lookout. Supervise your kids as it's a steep drop off. It's a great place to stop for a drink and snack and enjoy the expansive views.
This spot offers magnificent views of the Warrumbungles famous volcanic rock formations. Across the valley, you'll see the iconic Breadknife formation, Belougery Spire and Crater Bluff.
You'll also spot a sign that Fan's Horizon was named in memory of Fanny Gould, the wife of Alick Gould, a long-time Secretary of the Park Trust. The sign explains this was her favourite view.
As you leave the lookout for your descent down, check out the spur track which is about 10 metres back from the lookout. Here you'll see views of the Bluff Mountain and Mt Exmouth.
It's much easier on the way down but take your time to enjoy the views on the way down.
Burbie Canyon Walking Track
A completely different walk to Fans Horizon is the Burbie Canyon Walk. This walk starts from the Burbie Canyon carpark.
This is a easy to moderate walk which does have steps and creek crossings but it's super fun with kids who like to explore.
The walk follows along a usually dry creek bed before you cross the creek.
Keep walking and you'll come to sandstone cliffs and giants boulders. Kids will love scrambling up the rocks.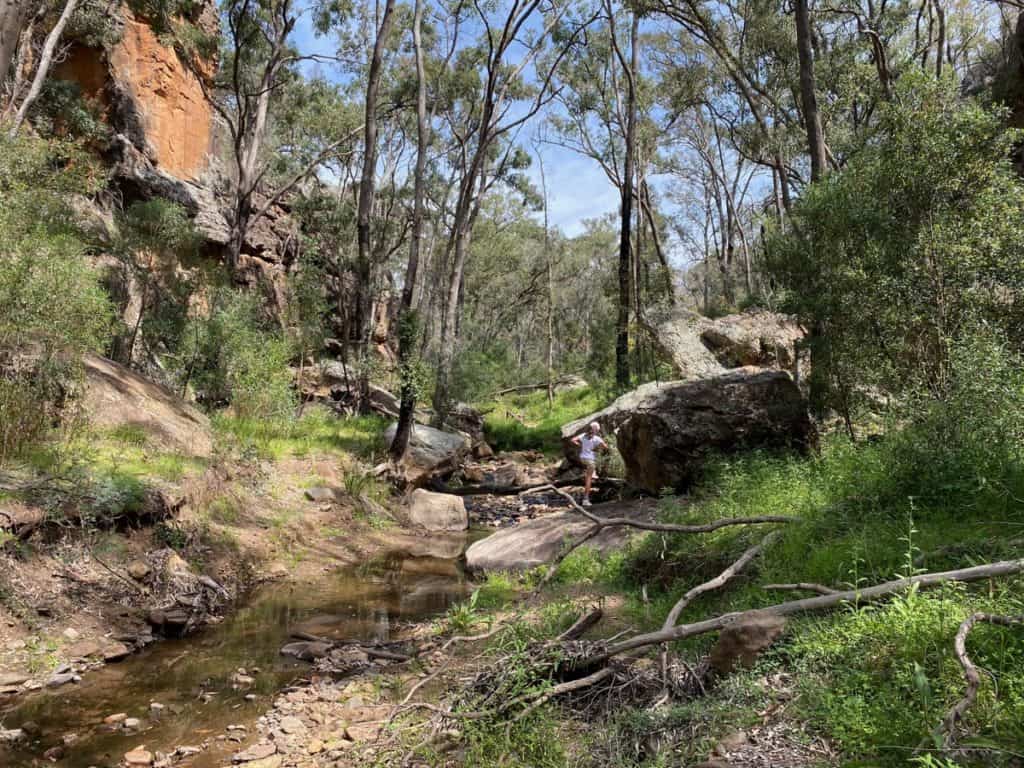 You'll need to walk through a narrow sandstone gorge and then cross the creek again.
It's a beautiful walk especially if it's blooming with wildflowers.
There is also lots of wildlife around. Burbie Canyon Walking Track is popular with birdwatchers due to the varied birdlife. Keep an eye out for peregrine falcons which nest in the rock face.
The Burbie Canyon Walk then joins the Burbie Fire Trail. You can return back the way you came with a 2km return walk or head left to join the Burbie Fire Trail which ends up at the Split Rock carpark, a 400m walk back to the Burbie Canyon carpark.
Stargazing in Dark Sky Country
Warrumbungles National Park is designated as a Dark Sky Country and actively reduces its light pollution at night. The park is renowned for its stargazing opportunities thanks to its crystal-clear night skies, low humidity and high altitude. If you're in the park after dark, look up and enjoy the stars on a clear night. It's amazing how many you can see.
Sandstone Caves
If you have the time, visit the Sandstone Caves in Pilliga Nature Reserve. It's a 35 kilometre drive from Coonabarabran but it's worth the drive. The Sandstone Caves are a special place to the Gamilaraay people.
Note that the Sandstone Caves are not signposted from the Newell Highway at the request of Aboriginal Elders. You'll need to follow the Newell Highway and after 3.7km past Cusack Creek, turn right onto a dirt road marked as Yaminbah Trail. You'll come to a car park from which the Sandstone Caves Walk begins. There's a toilet at the beginning of the walk if you need to use it.
These caves are a series of cathedral type caves. Sandstone Caves Walk is a 1.7km loop around the sandstone caves.
The trail takes you past cliffs and then past a series of caves.
Interpretative signs explain different features like bird life, grinding grooves and rock art.
The caves have been blocked off to protect the site but you can still easily see ancient rock art.
The weathering of the sandstone caves makes for interesting shapes.
At a high point of the trail, you can look over the surrounding countryside.
Getting to Coonabarabran
From Newcastle, it's just over a 4 hour drive to Coonabarabran going through Jerry's Plains, Denman and Cassilis. It's slightly longer going through Muswellbrook, Murrurundi and Quirindi. From Sydney, go via the Blue Mountains and Mudgee (from 5 hours and 35 minutes).
For more information, visit the Tourism NSW website about Coonabarabran.
Accommodation in Coonabarabran
There's a variety of accommodation in Coonabarabran. We stayed in a 2-bedroom family suite at Acacia Motor Lodge in town. This motel was quiet and comfortable and great to return to after a day of bushwalking. It offers continental breakfast, free guest laundry facilities and a pool (which would be great when it's hot).
You can also camp in Warrumbungle National Park. Camp Blackman is ideal for families. It has powered and unpowered sites and van sites. Facilities include hot showers, flushing toilets and gas BBQs. Also popular with camping families is Camp Wambelong.
Food in Coonabarabran
Coonabarabran Bakery – Stop here for delicious baked goods. The pies and cakes are delicious. I also recommend getting there early in the morning to grab pre-made sandwiches. They're made Monday to Friday and great to pack in your backpack to eat on your bush walks.
Mint Leaf Cafe – This cute cafe has super friendly staff and offers delicious food with an Asian twist. The Japanese Fried Chicken and dumplings are yummy.
Imperial Hotel Coonabraran – You'll find your standard pub fare at Imperial Bistro including burgers, pizza, schnittys and parmys. It's a family-friendly place with great service. Drop by on Tuesday and Friday for 2 for 1 meals. Kids can choose from the kids menu which has nuggets, pizza, schnitty, fish and chips and icecream.
Golden Sea Dragon Chinese Restaurant. Across the street from Acacia Motor Lodge, this restaurant offers an extensive menu. If you don't want to eat in, grab some takeaway.
Coona Chicks, a new charcoal chicken shop opened after we left but we would definitely drop by for a meal or takeaway if we were back in Coonabarabran.
---
Want more family holiday inspiration? Check out our guide to Dubbo, Port Macquarie and the Blue Mountains.
In 2012, Reena founded Newy with Kids to share information about family-friendly Newcastle. Originally from Canada, she had no idea about what to do with her toddler and after searching unsuccessfully for a local family guide, decided to start her own. Since that time, both the toddler and Newy with Kids have grown keeping Reena busy. If you see her out and about, say hi.