Go inside a cave? Why not… For a fun family day out, go for a drive and explore Caves Beach, a network of sea caves located on a beach in Lake Macquarie, north of the Central Coast. We might be biased but we think it's one of the best caves in New South Wales especially when you can combine it with a swim!
Where is Caves Beach?
Caves Beach is a popular spot near Swansea in Lake Macquarie and not far south from Newcastle, it's worth a visit with your kids to explore this network of sea caves. There are lots to do at Caves Beach including swimming, surfing and sun baking. However, if you wish to explore the caves, you'll need to check the tide tables first as you can only visit the sea caves during low tide.
Caves Beach is a beautiful unspoilt beach. Enjoy the coastal views and spot the coal ships moored out at sea in the Pacific Ocean. If you feel like a walk, head north up the beach toward Hams Beach. (FYI Hams Beach is a dog-friendly beach).
How do I get to the caves at Caves Beach?
Head down the path and turn right towards the southern end of the beach. You'll see a track over the rocks that leads to a network of caves. The caves resemble a moonscape appearance with weathered rocks and unusual formations.
When should I visit Caves Beach?
Before you visit, you'll need to check the tide tables. On the day we visit, we arrive at low tide that we have sufficent time to explore before the tide comes in submerging the caves.
Caves Beach is suited for a visit most of the year. We've visited at different times during the year. We've even visited on a warm winter's day and it was still warm enough for an ocean swim. Just be aware that the beach is not patrolled until September school holidays.
We recently visited on a weekend and it was busy but there was still plenty of space for people to social distance.
Is it easy to explore Caves Beach?
There's a variety of different sized caves to explore, some of them with narrow openings to crawl through. You can crawl into the caves and feel the damp cave walls.
Look up and you'll see moss and feel water dripping from the cave ceiling.
Follow the tunnel at the back of the main cave and it takes you outside of the caves on the southeastern side.
There are also lots of mossy rocks outside so be careful when jumping from rock to rock as they can be slippery.
To navigate across rocks, be aware that it can be a bit painful on bare feet. Some people wear thongs or sandshoes to get across rocks and water. We even saw a few people wearing aqua shoes.
Are there tidal pools at Caves Beach?
There are also tidal pools to explore outside the caves. Peering through the water, we find all kinds of interesting creatures in the pools such as periwinkle shells, waving sea grass as well as a single crab leg!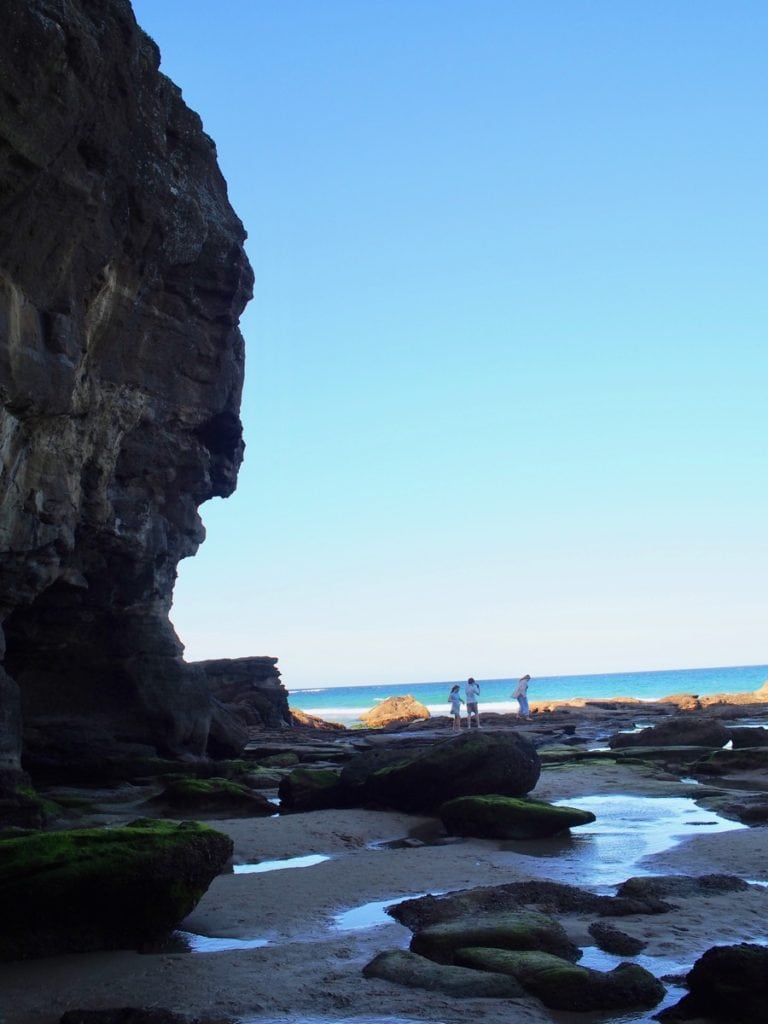 If the tides come in, you can still explore around the area.
What else can I see at Caves Beach?
Nearby, you'll find a beautiful secluded beach that's protected from the prevailing winds. No wonder the locals keep this a secret. This beach is called Spoon Rocks so called because the rocks and beach resemble a spoon. The rocks are the remains of a breakwater which was originally constructed to transport local coal onto waiting ships. Follow the path to Quarries Head lookout (great for whale watching during the season) or go further to Pinny Beach on the Wallarah Peninsula walk. It's a bit of an adventure with steep terrain in some spots, a staircase and fire trails to follow but lots of fun for those with older kids.
A short drive away is the remains of a petrified forest at Swansea Headland. For something a bit different, take your kids to Swansea Headland and search for fossils at low tide. Here, you'll find remnants of a petrified forest in this interesting geological spot from a volcano eruption 250 million years ago off the Swansea coast.
It's a beautiful part of the East Coast of Australia. If you would like to stay nearby, check out the nearby Lake Macquarie Holiday Parks listed in the Newy with Kids 50+ camping and holiday parks to stay within a 3 hour drive of Newcastle article. Even if you're a local, Caves Beach is a great spot for a staycation.
Information
Caves Beach is located on the Swansea peninsula in Lake Macquarie south of Newcastle. If you're going to explore the sea caves, check the tide times and do so at your own risk.
Patrolled: Yes from September school holidays to April at Caves Beach.
Toilets & Showers:  Nearest at Surf Life Saving Club (SLSC)
Shade: Bring your own sunshelter.
Parking: Free parking at car park above SLSC
Picnic Area: Barbecues and picnic tables
Kiosk: At SLSC
Nearest Playground: Caves Beach Playground located 500 metres away on Caves Beach Road
---
You might also like:
20 Things to Do in Lake Macquarie With Kids
70+ Free & Low Cost Things to Do in Newcastle & The Hunter
50+ Camping & Holiday Parks to Stay Within a 3 Hour Drive of Newcastle
Kids Eat Free in Newcastle, Lake Macquarie & the Hunter
Started in late 2012 by a local mum, Newy with Kids has grown into a thriving go-to family guide for the Newcastle, Lake Macquarie & Hunter region. Parents visit the Newy with Kids website to find things to do with babies, kids and teens. Whether it's local attractions, upcoming events, kids eat free, school holiday activities or birthday party ideas, Newy with Kids is the best website for local parents to find local kid-friendly activities and information 24/7.