There is a cute playground at St John's Memorial Park in Tingira Heights, ideal for local families.
It's especially great if your kids love fire engines as it's located adjacent to the Fire and Rescue NSW station in Tingira Heights. Kids can spot the fire truck if the engine bay is open or if the fire truck is going in and out of the fire station.
St John's Memorial Park is a small playground but has everything your kids need for a fun time at the park. It was refurbished in early 2021 so it's nice and modern. There's a play structure with stairs and a small double slide
There's two swings, a regular swing and a baby swing.
For kids who like to climb, there's a stucture that includes a rope climbing wall, climbing ladder and balancing pods.
It even has a lime firefighter's pole, so they can copy the firefighters next door.
You'll also find a bright lime see saw see saw.
Musical kids can bang away on the park xylophone to the heart's content.
For flooring, it's a combination of softfall paths and bark chips.
Parents can sit around the playground on one of the picnic benches or sit on the sandstone blocks that surround the playground.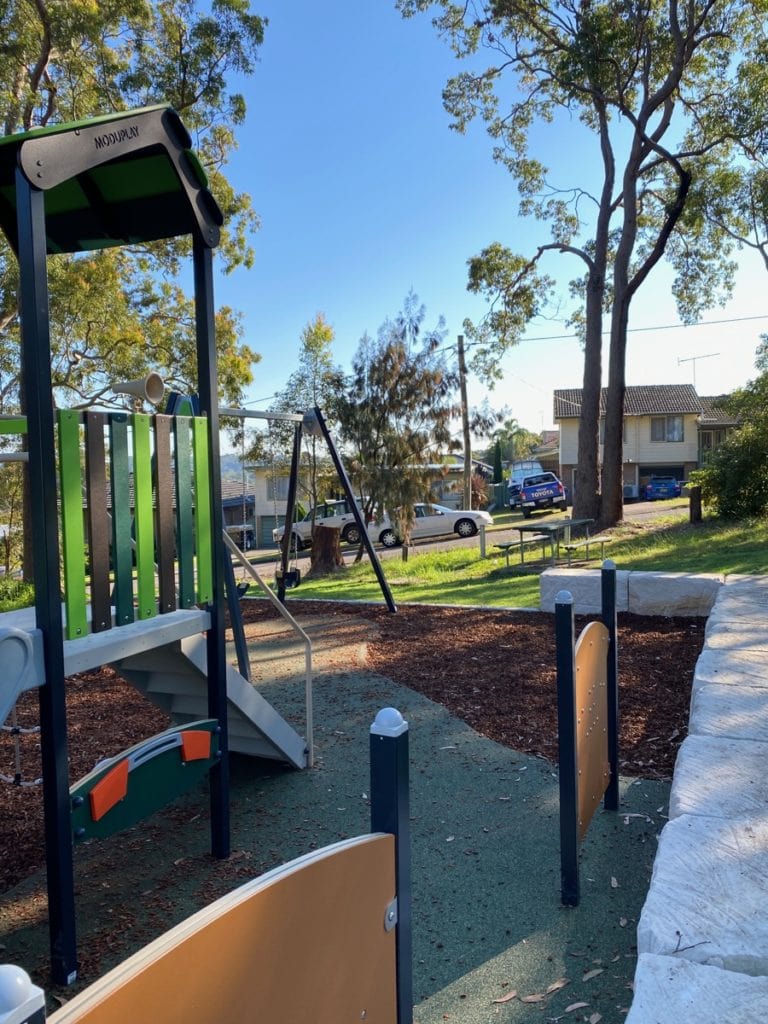 If you need coffee or snacks or need a toilet, head to Lake Macquarie Fair in Mount Hutton. It's a short 3 minute drive.
Good to Know
Address: 68A Violet Town Road, Tingira Heights NSW
Ideal Age: Toddlers, Preschoolers, Young School Age Kids
Public Toilets: No
Water Fountain: No.
Picnic Facilities: Picnic table
BBQ: No
Accessibility: No wheelchair accessible play equipment. Concrete block perimeter surrounds the playground.
Nearby Cafe or Restaurant: Eateries at Lake Macquarie Fair in Mount Hutton.
You might also like:
Best Playgrounds in Newcastle, Lake Macquarie & Hunter for Toddlers
70 Free & Low-Cost Things to Do With Kids in Newcastle, Lake Macquarie & Hunter
Started in late 2012 by a local mum, Newy with Kids has grown into a thriving go-to family guide for the Newcastle, Lake Macquarie & Hunter region. Parents visit the Newy with Kids website to find things to do with babies, kids and teens. Whether it's local attractions, upcoming events, kids eat free, school holiday activities or birthday party ideas, Newy with Kids is the best website for local parents to find local kid-friendly activities and information 24/7.