Monday is Picnic Day. As of Monday 13 September 2021, the NSW government has advised that for those who live outside the LGAs of concern, outdoor gatherings of up to five fully-vaccinated adults will be allowed in a person's LGA or within 5km of home. (Children under 12 will not count towards the total). The adults must have received both doses of the COVID-19 vaccine and need to have proof of vaccination. See NSW Government website under Exercise and outdoor recreation for all the details.
You won't be able to meet up at someone's home or even in a backyard. But if you're fully vaccinated, it does mean you can head to a local park, playground or picnic spot to meet up with those you've missed! Just bring the face masks as you'll still need to follow mask regulations outside.
We've put together a guide to the best picnic spots in Newcastle including those barbecues, playgrounds and amenities. We've organised it by local government area (LGA) so that you can choose a place that's permitted. If there are any other spots in Newcastle you can recommend, let us know and we'll add them to the list.
King Edward Park
This beautiful park with a lovely big lawn and Victorian rotunda is a great place for a picnic. If you need some shade, spread out a blanket in the rotunda or under one of the large majestic Norfolk pines. There's picnic tables dotted around the perimeter of the park.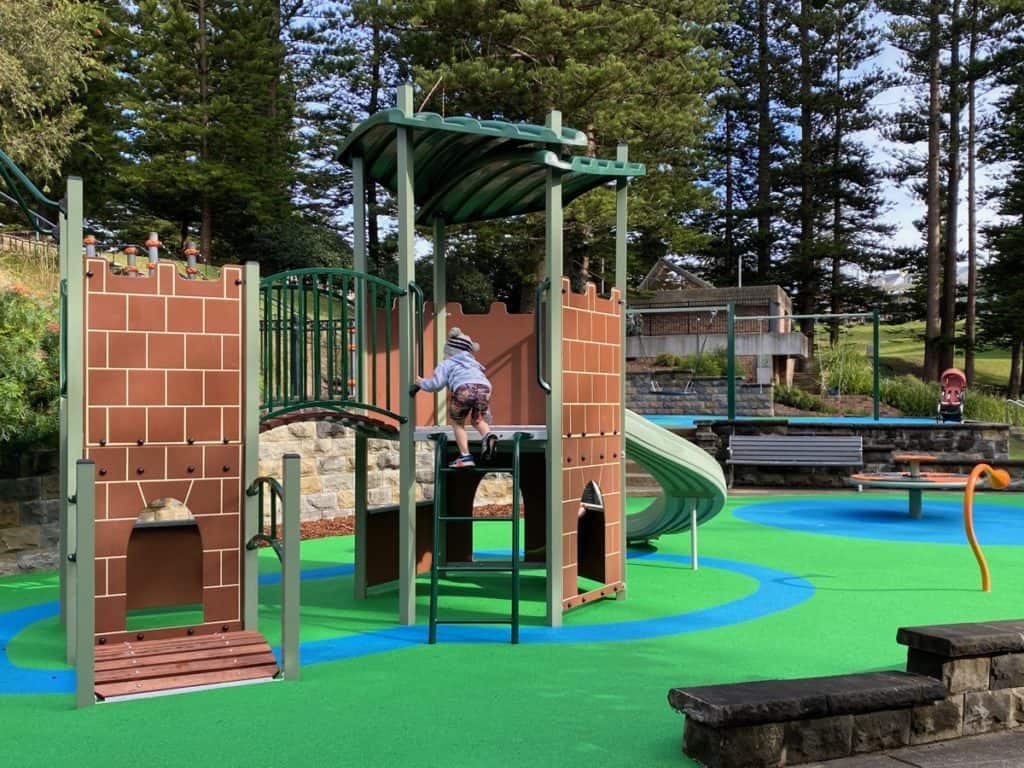 This park complete with a playground is suitable for children of all ages and as a result is a popular spot with families on weekends. The bottom playground has just been revamped and is ideal for little ones.
There's usually a cricket or footy game in progress! Wander down to Garside Gardens. It's beautiful when it's in bloom. More information about King Edward Park.
Bathers Way
Although Bathers Way runs from Nobbys Beach to Merewether, a top spot for picnics is at the picnic shelters at Bar Beach. These sheltered tables have a million-dollar view looking out to the beautiful coastline. With wide shared paths, there's plenty of room for scooters, kids bikes and skateboards along Bathers Way or try out the Empire Park skate park across the street. If you feel like cooking, the picnic shelters near the skate park feature barbecues.
Dixon Park
Covered picnic shelters and a view of the beach make Dixon Park an ideal location for a picnic. There are barbecues so you can cook food and you're a short walk from the playground and toilets. If you don't want to be so close to people, there is plenty of grass to thrown down a picnic blanket or arrange camp chairs.
There's also a picnic shelter by the playground that you can nab if it's free. Plus you can go for a swim at Dixon Park Beach after the picnic, weather permitting. More information about Dixon Park
Lambton Park
Lambton Park is a favourite for picnics. There are a couple of covered picnic shelters plus barbecue facilities. You can even head up to the rotunda for a picnic if it's free.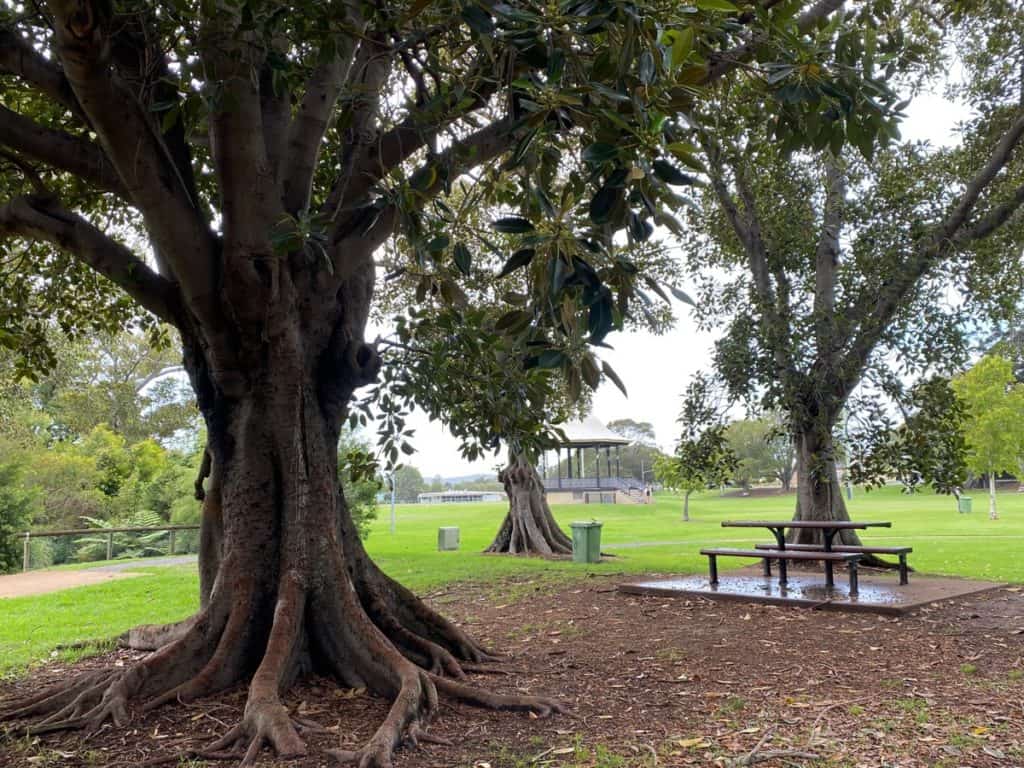 There's plenty of green spaces for kids to run around and the nearby playground keeps kids occupied. After your picnic, walk around the perimeter of Lambton Park. More information about Lambton Park.
Jesmond Park
Jesmond Park is a fantastic spot for a catch up as there are picnic tables and benches all over the park. It's quieter at the back playground and also has covered picnic shelters and barbecues.
There are loads of things for kids to do including a large playground, half-basketball court and a frisbee golf course. Just bring mozzie spray in case. More information about Jesmond Park.
Blackbutt Reserve
There's plenty of picnic spots at Blackbutt Reserve no matter if you head to Carnley Avenue entrance (Animal exhibits) or Richley Reserve (Adventure Playground) area. Blackbutt is currently closed but may reopen before the 13 September to facilitate picnics and gatherings.
You'll find picnic shelters, barbecues and lots of grassy spots to throw down a rug. Both areas feature playgrounds so that the kids can burn off energy. Pictured above is the Adventure Playground in Richley Reserve. More information about Blackbutt Reserve.
Newcastle Foreshore
There are numerous spots along the Foreshore to have a picnic. There are picnic tables and barbecues just east of the Brewery. It's a top spot for a family picnic with views of Nobbys and plenty of room for kids to roam around on the grass or ride bikes and scooters on the path.
The frog pond is currently drained and has been popular with families. Kids can ride their bikes or scoot through the empty pond.
Otherwise, head for a picnic in Foreshore Park either on the grass or in the covered Tramsheds. More information about Foreshore Park
Stockton
Anywhere along Stockton Foreshore is a great place for a picnic. There are picnic shelters dotted along the foreshore. Sit and watch the coal ships come in and the ferry zip back and forth.
However, if your kids want to play or skate, head to the Stockton Active Hub.
Views of the harbour and a combination of playground and skate park make this an ideal spot for a picnic.
There's a large covered picnic shelter with barbecues in the middle of the Hub which make it easier for parents to keep an eye on kids whether they be in the playground or at the skate park. More information about Stockton Active Hub
Centennial Park
Located in the middle of Cooks Hill, Centennial Park is a beautiful spot for a picnic. There's lots of grassy area surrounded by trees plus a modern playground and rotunda.
There are picnic tables but bring chairs or picnic blankets so that you can laze around on the grass or even in the rotunda. More information about Centennial Park
Nesca Park
Nearby Nesca Park is also great for a family picnic. There are covered picnic shelters, barbecue facilities and a fun playground for kids.
Nesca Park is a large park with lots of green space and palm trees, perfect for ball games and games of hide and seek. More information about Nesca Park
Islington Park
With plenty of space, Islington Park is a great spot for a picnic. There are plenty of covered shelters and benches to sit on.
There is also a great playground plus tracks for kids to scoot around on.
There's also a half court for basketball or netball if your kids want to practice their ball handling skills. If you feel like an impromptu hide and seek game, there's plenty of trees and playground equipment to hide behind. More information about Islington Park.
Wallsend Park
Another great spot for a gathering is Wallsend Park. Not only does it have lots of space to social distance from other groups, it also has a great playground.
The playground at Wallsend Park, Wallsend is a gem! It sits right alongside the soccer fields and at the end of a shady avenue of trees.
Kids will be entertained while adults can catch up nearby. More information about Wallsend Park.
Brickworks Park
If you want lots of space, head to Brickworks Park in Wallsend. This is a great spot for families to visit. It features a playground, nature trails and a peaceful pond area with observation area and abundant bird life.
It's hard to believe that the park is in the middle of a suburb as it's quiet and tranquil. When you first approach Brickworks Park, you won't see anything. It's all hidden away behind the trees.
As well as the fantastic playground, there are picnic shelters and barbecue facilities.
More information about Wallsend Brickworks Park
Blue Gum Hills Park
Take a trip out to Blue Gum Hills Regional Park at Minmi / Fletcher. This is a lovely large bushland park with lots of space for a picnic. Choose from covered picnic shelters or throw a picnic rug down on the grass. The park features barbecues so bring some snags if you feel like cooking.
Nearby, you'll find a unique playground reflecting the history of the area with a mining theme. If you feel like walking, there are walking tracks throughout the park including the easy 2.5km Heritage Walking Track which takes you past coal mining infrastructure. More information about Blue Gum Hills Regional Park.
You might also like:
Best Picnic Spots in Lake Macquarie LGA to Meet Up With Friends
Best Picnic Spots in Newcastle, Lake Macquarie & the Hunter
Started in late 2012 by a local mum, Newy with Kids has grown into a thriving go-to family guide for the Newcastle, Lake Macquarie & Hunter region. Parents visit the Newy with Kids website to find things to do with babies, kids and teens. Whether it's local attractions, upcoming events, kids eat free, school holiday activities or birthday party ideas, Newy with Kids is the best website for local parents to find local kid-friendly activities and information 24/7.