For an experience your family won't forget, take your kids on a tour of Maitland Gaol. It's not for the faint-hearted but it's an opportunity to immerse yourself in local history and learn more about Maitland Gaol.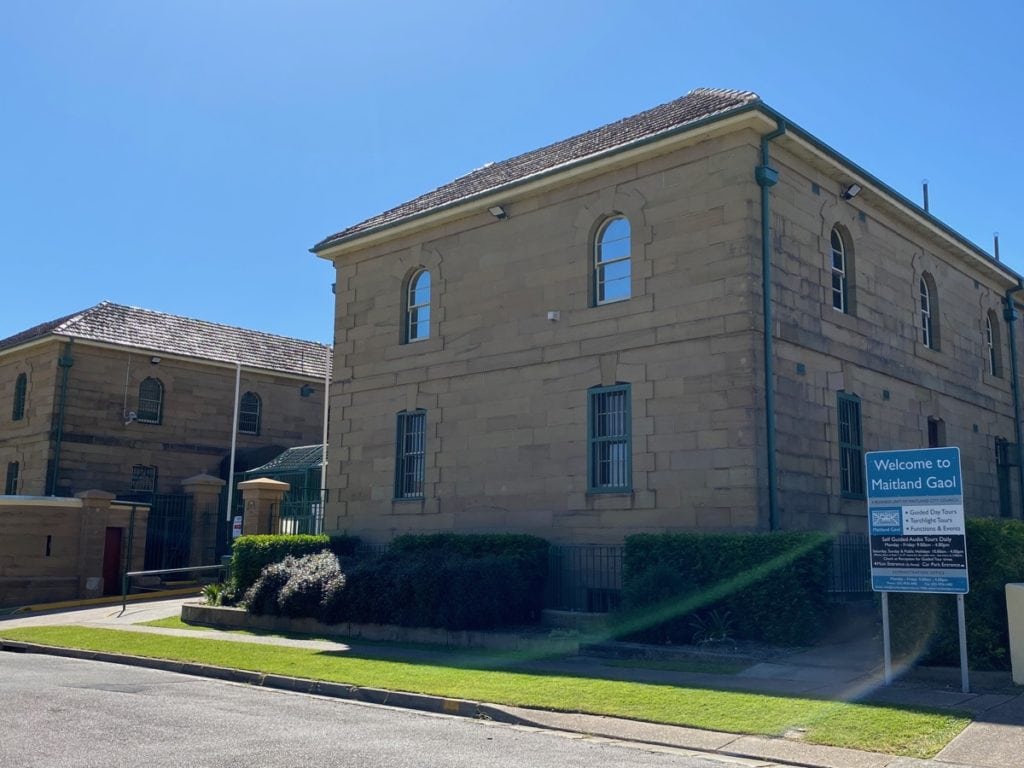 As you approach Maitland Gaol, you'll notice its large imposing sandstone structure, high walls and barbed and razor wire. It's an introduction to the penal conditions you'll find inside.
Opened in 1848, Maitland Gaol operated for 150 years. The heritage-listed site is preserved as exactly as it was when the facility shut in January 1998.
Visit Maitland Gaol and you can experience what life was like for inmates serving time. Unlike other museums, there are no interpretative signs for visitors to read.
Instead, you'll need to take a tour, either a guided tour or a self-guided audio tour to learn about the buildings you're walking through. The lack of signage definitely makes the facility feel less like a museum and more authentic. It feels like inmates might return at any moment.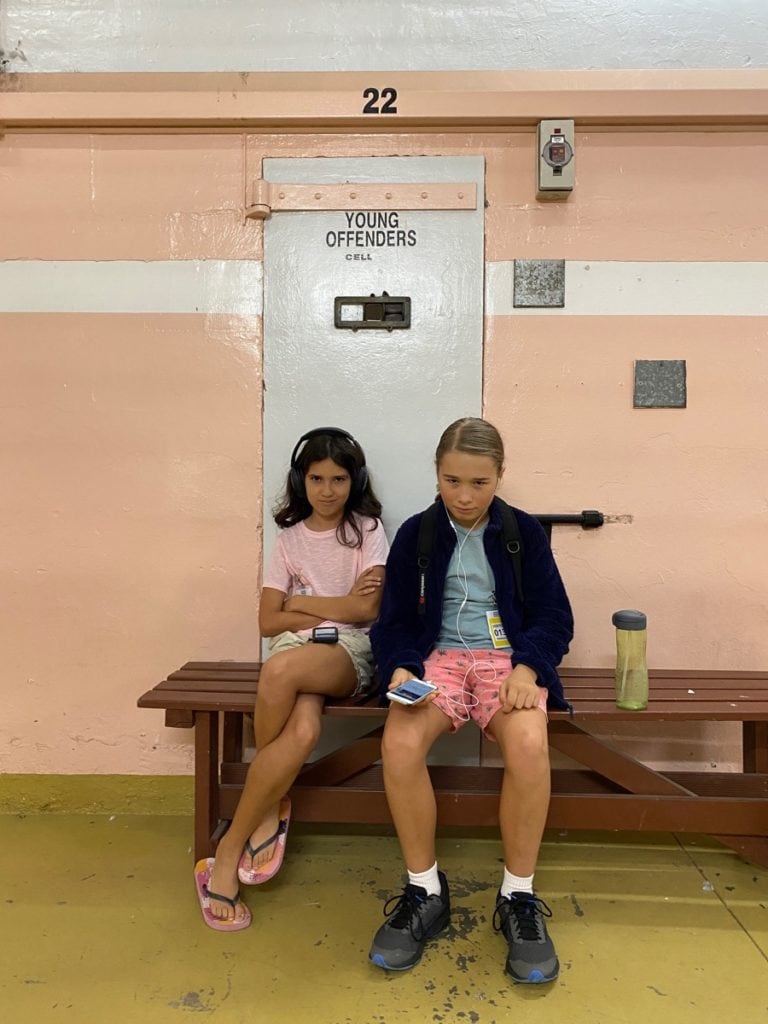 In terms of the atmosphere, Maitland Gaol delivers. You definitely get a sense of what life was like for the inmates. The high walls, razor and barbed wire and watch tower add to the prison feel.
If you opt for a guided tour, choose the 150 Years Under Lock and Key or the Escapes tour. These are suitable for family groups. Some of the other tours contain content not suitable for kids.
If you choose to do the self-guided tour, you'll need to bring your own device and headphones. Download the Maitland Gaol App available in the Apple App Store or Google Play Store and choose from one of the tour tracks
The audio track for kids is Snitch's Gaol Exploration. The narrator is a ghost rat who arrived with the first inmates in 1848. Snitch with the help of his friends shares secrets and stories of Maitland Gaol. Just be ready for Snitch's accent and his jailhouse slang.
Each of the audio tracks corresponds to a different area of the gaol and there are coloured decals on the buildings which indicate which track to listen to. Snitch's Gaol Exploration is aimed at primary school-aged children but parents can listen to it too. If a kids track isn't for you, choose the Maitland Gaol Revealed audio track instead while you tour the facility.
The tour takes you throughout the site and is full of interesting information and anecdotes, moderated for kids.
The different buildings at Maitland Gaol each have their own story. A Wing was the first wing to be built at Maitland Gaol and housed men downstairs and women and their kids upstairs. It's a bleak spot. It's also where condemned men spent their final days before execution by hanging.
Explore the Chapel. With its stained-glass windows, it provides a respite from the jail conditions, much like it did for the inmates each Sunday.
In the shower block, you'll learn how seven inmates escaped through a red exhaust vent in September 1977.
Looking at this narrow space, you'll marvel how the "'Magnificent Seven" as they were dubbed managed to squeeze through. Although they managed to break out of Maitland Gaol, they were all recaptured within two hours.
To really experience life in gaol, go into a cell and close the door. Each prison block has at least one cell that you can wander through.
Seeing the confined space, small bed and thin mattress, open toilet reveals the conditions that inmates had to endure. The graffiti and drawings on the wall add to the experience.
The absence of light in these buildings are especially noticeable. We visited on a bright sunny day yet when we toured through some of the buildings and walked into cells, it was dark and dreary with little natural light.
In terms of the inmates, there were some that definitely deserved to be incarcerated. Venture through C Wing which was originally opened in 1897 for female prisoners and their children. It was used in its final five years from 1993 to 1998 to house some of NSW's worst offenders whose crimes made them unsafe to be with the other inmates.
The newest building at Maitland Gaol is 5-Wing, It was built in 1993 and was designed to be a high security area for inmates who had committed the most heinous crimes or serious crimes against other inmates. This is where backpacker murderer Ivan Milat was imprisoned.
In contrast, there were other inmates whose crimes seem minor especially some of the early female inmates whose crimes include petty theft, public drunkenness or keeping a disorderly house (running a brothel).
Maitland Gaol is a fascinating walk through penal history but you'll appreciate the taste of freedom as you leave!
Good to Know
UPCOMING MAY 2021 EVENT – To celebrate New South Wales Heritage Festival, Maitland Gaol is launching characterisations of Snitch & Friends from the children's self guided audio tour Snitch's Gaol Exploration. Kids receive free admission for one weekend only Saturday 15 & Sunday 16 May from 10am to 3pm. Kids will have fee entry with adults charged $19. So bring the kids, and experience the self guided audio tour with new characterisations. There will also be a selfie station set up to get a photo with Snitch & Squealer and other fun activities. Bookings essential.
Website: Maitland Gaol
Suitability: We would recommend this for older primary school-aged kids and teens. Snitch's Gaol Exploration self-directed tour at Maitland Gaol is aimed for primary school-aged kids. We would recommend kids 8+ listen to this tour. If your kids are sensitive or prone to nightmares, maybe skip visiting Maitland Gaol. If you're not sure if the content of Snitch's Gaol Exploration is appropriate for your kids, you can listen to it beforehand by downloading the app and tour track.
Cost: It costs $19 for adults and $13 for kids aged 5 and over for a self-directed tour. For a guided tour, adults are $30 and kids aged 5 and over are $24.
Tours: Choose from guided tours or self-directed tours. Allow 60 – 90 minutes for the audio tours. If you want to leave the kids at home and experience a more harrowing tour, choose a night tour. There are a few to choose from including the Psychic Experience tour, Crimes of Passion Night Tour or a Ghosthunting Tour.
Opening Hours: Maitland Gaol is open 7 days a week. Monday to Friday from 9am to 4pm and 10am to 4pm on Saturday, Sunday and Public Holidays.
Getting There: Maitland Gaol is located at 6 – 18 John Street in East Maitland. For a fun excursion, catch the train to Maitland Gaol. East Maitland Train Station is located 100m to the entrance of Maitland Gaol.
Cafe: Bread and Water Cafe is located in the former Warden's Cafeteria and is the region's first 100% gluten free cafe.
Additional Activities: You can book a session of laser tag at Maitland Gaol with Battlezone Playlive Laser Tag. Want to escape from Maitland Gaol. Get Out Escape Rooms have launched their first escape game, Jail Breakout! Situated in cells of the notorious 5 wing, you can take part in a thrilling and realistic live game experience.
Disclosure: Newy with Kids received free admission to Maitland Gaol for review purposes. However, all opinions are our own.
---
You might also like:
Visit Maitland Park Playground
Enjoy a Family Day Out at Morpeth
15 Things to Do in Maitland With Kids
Started in late 2012 by a local mum, Newy with Kids has grown into a thriving go-to family guide for the Newcastle, Lake Macquarie & Hunter region. Parents visit the Newy with Kids website to find things to do with babies, kids and teens. Whether it's local attractions, upcoming events, kids eat free, school holiday activities or birthday party ideas, Newy with Kids is the best website for local parents to find local kid-friendly activities and information 24/7.