Enjoy a fun family outing on public transport. With high petrol prices, taking the bus, train or ferry around Newcastle, Lake Macquarie and the Hunter can make for a fun excursion, especially with younger kids. Who doesn't love a ride on a train or ferry?
And with 12 days of free travel, there's no better time to jump on public transport. As a response to the recent transit debacles and industrial action, the NSW government has announced that public transport will be free across Greater Sydney's entire network for 12 consecutive days during the Easter holidays between 4am on Thursday April 14 and 3:59am on Tuesday April 26.
The fare-free days cover all Opal network services in Sydney, the Blue Mountains, Central Coast, the Hunter and the Illawarra. It includes train, bus, light rail and ferry services.
We've put together a list of ideas in and around Newcastle, Lake Macquarie and the Hunter as well as in Central Coast and Sydney to take advantage of free public transport. Some of the trips are short, just a fun trip on a train, bus or ferry while others are longer. Take advantage of free public transport and head away for the weekend or a few days.
Have fun riding the rails (or bus or ferry), but remember you must wear a face mask on public transport and customers will still need to tap on and off. Please sit or stand where you see a green dot.
---
Stockton Ferry
One must do is a ride on Stockton Ferry. It leaves from Queens Wharf in Newcastle and although it's a short 5-minute trip, it's a lot of fun. Once you're in Stockton, there is plenty to do. Take the kids for a play at Stockton Active Hub.
It's located in Griffiths Park in Stockton next to the ferry terminal so really easy to access if you're coming via ferry. You'll easily spot the playground as you approach by ferry. With great play equipment and skate facilities plus fantastic harbour views of Newcastle, it's a favourite for both kids and adults.
You can also go for a walk and do the Newy with Kids Stockton Scavenger Hunt. It starts from the Stockton Active Hub and goes all the way to Little Beach in Stockton. It's free to download the map or you can pick some up at the Visitor Information Centre in Newcastle.
If you and the kids still have energy, head out for a walk along Stockton Shipwreck Walk. This is a fun family walk that combines history with scenic views. It's estimated that over 200 vessels were lost entering or leaving Newcastle Harbour and on this walk, you can see the wrecks and hulls of steel and iron ships that remained and used in the construction of the breakwater.
If you bring your bikes with you on the ferry, you can do discover Stockton by bike. The Stockton bike path stretches from Stockton Bridge all the way around the peninsula to the Stockton pool and the start of the breakwall. At approximately 7km, mostly flat and lightly used, it is a fantastic shared path to ride with kids.
Go for a ride on Newcastle's Light Rail
Take a ride on the light rail from Newcastle Interchange to Newcastle Beach. It's not a long ride (only six stops) but it's fun and it's easy to get on and off for those with strollers and wheelchairs.
You can stop off along the way at Honeysuckle to go for a play in the Honeysuckle Playground.
The former industrial maritime land is now a harbourfront park with a maritime-themed play area developed by the Hunter & Central Coast Development Corporation. Taking centre stage is the ship play structure complete with shade cloth.
You can either get back on light rail or just walk down to the next stop Civic. Here you'll find the Visitor Information Centre and Newcastle Museum. A small gem of a museum, Newcastle Museum provides visitors with the opportunity to learn more about the region's history.
Compared to other museums, Newcastle Museum isn't large but it's packed with lots of interesting exhibits. With free admission, it's worth a visit. Our top picks are the interactive Supernova science exhibits, the 6-minute BHP Steelmaking Show and climbing all over the old tram carriage which was once part of Newcastle's thriving tram network.
It's one of our favourite spots in Newcastle and thus it's not surprising that we've created a Newy with Kids Newcastle Museum scavenger hunt to discover the hidden (and not so hidden) gems of the museum. Download and print the scavenger hunt before you go.
Hop back on to the light rail and continue along to Queens Wharf stop. Here you can either head out to the Stockton Ferry or you can wander up to The Station Newcastle (the old Newcastle Train Station).
This urban plaza is a great spot for a meetup or picnic. If you get hungry, stop by Perry the Feeder. They serve toasties, smoothies, shakes and coffee.
The kids will be happy at The Station. It has plenty of space to run around, misting jets to keep everyone cool and the Flyer train. It also has a small kids area which is perfect for little ones. It features a huge snake, a frog, balancing obstacles and sensory flowers. Kids can test their balance on vertical logs or walk along the balance beam.
From The Station, you can just walk to the beach or if you want to hop back on the light rail, get off at the next and final stop Newcastle Beach. Here it's just a short walk to Newcastle Beach or you can also walk down to Nobbys Beach.
You can also walk to Fort Scratchley from this tram stop. Take your family and enjoy views and discover the past at Fort Scratchley in Newcastle.
Either take a self-guided tour around the fort or do a guided tunnel tour. The site is open every day except for Tuesday and it's free to enter the site.
Once you've finished for the day, jump back on the light rail and head back to Newcastle Interchange.
Walk or Ride along Fernleigh Track
Take the train to Adamstown and go for a walk or cycle along Fernleigh Track. Winding its way through idyllic bush and wetland, the 15 kilometre Fernleigh Track is perfect for families to spend a sunny day enjoying fresh air. A former rail line, the Fernleigh Track spans from Adamstown to Belmont and is a popular walking and cycling path. However, it has multiple entry and exit points, which means you can tackle as little or as much as you like – from a quick stroll to a half-day adventure.
If you want to go for a ride on the Fernleigh Track, you can bring your bikes with you on a train ride to Adamstown. According to NSW Transport website, you can travel with a bike on a Intercity train for free at any time when there is space available. (Bikes aren't permitted on Newcastle Light Rail though).
Charlestown to Newcastle (or vice-versa)
A new express bus route has been introduced. It's the 10X between Charlestown Square and Newcastle Interchange. Depending on where you can live, you can head out to Charlestown Square for some shopping or to see a movie or head into Newcastle CBD and connect with the light rail or ferry to Stockton. It's a 20 minute trip which saves you having to find or pay for parking.
Awabakal Walk
Here's a walk that combines a short bus trip with a walk. Take your family on the Awabakal Walk. It features spectacular views & adventuresome trails in the Awabakal Nature Reserve between Dudley and Redhead. It's 5 kilometres one way but if you don't want to do the return trip, time your walk with a bus trip. You can park at the SLSC at Redhead (Beach Road before Steel Street) and catch the 48 bus on Steel Street. It can drop you off at Ocean Street opposite Knoll Avenue, the closest point to the start of the trail.
Take the Train to Maitland
Hop on the train to Maitland discover plenty of fun activities all closely located to train stations.
Stop at East Maitland conveniently located to Maitland Gaol. For an experience you won't forget, take your kids on a tour. Opened in 1848, Maitland Gaol operated for 150 years.
The heritage-listed site is preserved as exactly as it was when the facility shut in January 1998. It's not for the faint-hearted but it's an opportunity to immerse yourself in local history and learn more about Maitland Gaol.
Jump back on the train and head to the next station, High Street. For an art fix, visit the Maitland Regional Art Gallery. Arty kids will appreciate the interesting artwork throughout this gallery.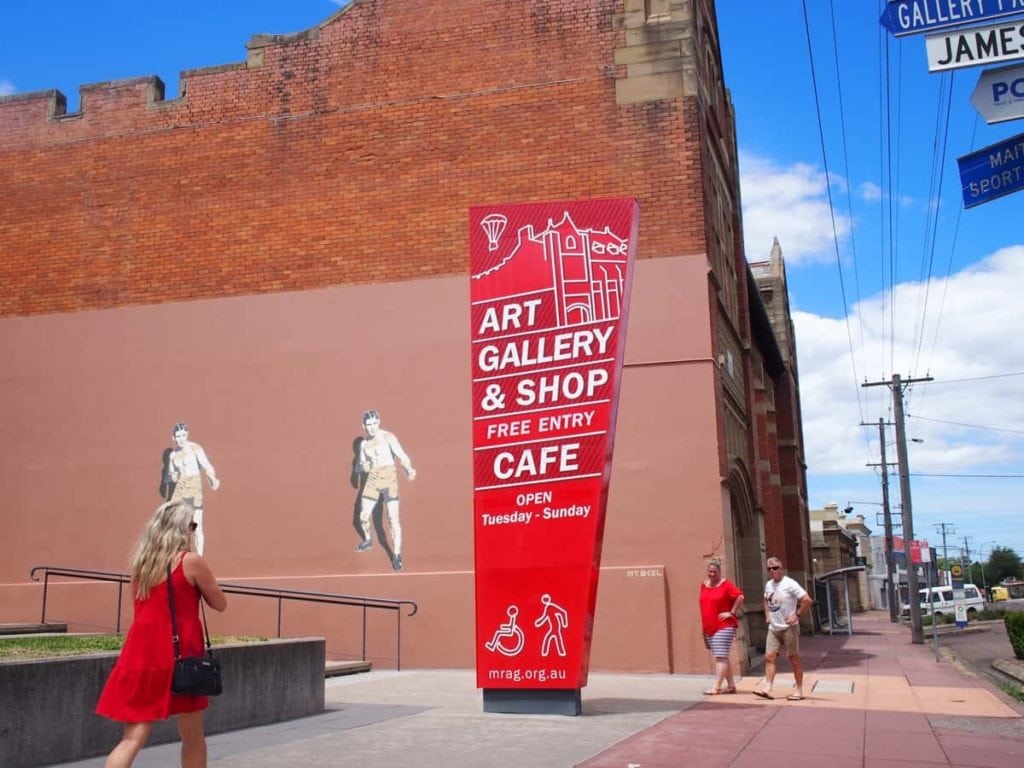 Wander upstairs through the Art Factory. Often there are interesting exhibitions that targets kids and families. Visit on a Sunday and you'll enjoy Free Art Sunday. Every Sunday at 10:30am and 11:45am, families are invited to participate in free art activities inspired by the exhibitions on display. Activities are designed for kids of all ages, and as a family, you can all join in and get creative.
From here, you can walk down to Maitland Riverfront. The mighty Hunter River divides Maitland and Lorn. It's also a great location for a family walk . Be sure to point out the notices that show how high the river peaked during the famous 1955 Maitland floods. On the Maitland side is the area called The Levee. Here you'll find shopping, cafes and restaurants. Take the time to look at the beautiful historic buildings in this area.
You can also wander over to Maitland Park. If the kids need to burn off some energy, head to Magic Garden, Maitland Park's fenced all-abilities playground with equipment suited to a range of ages.
The gated playground with softfall rubber flooring features fantastic play equipment including three sets of swings, xylophone, flying fox, batwing carousel and toadstools.
When it's time to go home, head to Maitland Station for the train ride back to Newcastle.
Stock Up on Books at Lisarow
If you need to stock up on kids books, take advantage of free public transit and take the kids down to the Scholastic Book Sale. It's happening over three days at Scholastic Warehouse at 76-80 Railway Crescent in Lisarow, conveniently located 700 metres from Lisarow train station. The sale runs Wednesday: 20th April: 8am—5pm, Thursday 21st April: 8am—5pm and Friday 22nd April: 8am—5pm. On offer are thousands of children's books, including picture and chapter books, novels and activity items. Children's books are 50% off RRP and there are 50% off Teacher and Learning resources.
Explore Leagues Club Park in Gosford
If you have the time and want to do a day trip to the Central Coast via public transit, catch the train to Gosford and explore Leagues Club Park. (On express services, it's 58 minutes from Cardiff Station or 1 hour, 12 minutes from Newcastle Interchange to Gosford).
It's a massive play area that incorporates nature play & tidal water into a kids playground. It's unlike any play space we've seen and incorporates the tides of Brisbane Water into its design. This nature-themed play area is remarkable and though it's located on the Central Coast, we still recommend it for a visit.
Leagues Club Park is a 10-minute walk from Gosford train station so it's pretty convenient. As you approach the playground, you'll immediately spot the large three black towers of the playground. Within the three play pods, there are rope ladders, climbing nets, platforms and rope tunnels that connects one pod to another.
Nearby you'll find the Tidal Terrace area. The Tidal Terrace is an aquatic play area so bring swimmers or a change of clothes for kids as they will get wet.
Past the tidal area is a large green lawn space in front of the Leagues club known as Ray Maher Field. Bring a ball and kick it around or let the kids just run around. You can also pick up supplies at Woolies near the Gosford train station and cook up some lunch as there are picnic shelters and barbecues here.
Sydney
With free public transit, take the family down to Sydney for a day trip or even longer. You can use your $250 Parents NSW voucher or $50 Stay voucher towards accommodation if you want to stay overnight.
Head to the Easter Show for some fun (Here are our best tips on a great day out at the Easter Show) or enjoy a Sydney attraction. There are plenty to choose from. Take the train to Luna Park, head to Taronga Zoo or Manly via the ferry from Circular Quay. You can also explore Sydney waterways on the Parramatta RiverCat. Stop along the way at Cockatoo Island, Drummoyne or proceed all the way to Parramatta.
---
The fare-free days cover all Opal network services in Sydney, the Blue Mountains, Central Coast, the Hunter and the Illawarra. It includes train, bus, light rail and ferry services. It runs for 12 consecutive days between 4am on Thursday April 14 and 3:59am on Tuesday April 26. For more information, visit the NSW Government website or the Newcastle Transport website.
Started in late 2012 by a local mum, Newy with Kids has grown into a thriving go-to family guide for the Newcastle, Lake Macquarie & Hunter region. Parents visit the Newy with Kids website to find things to do with babies, kids and teens. Whether it's local attractions, upcoming events, kids eat free, school holiday activities or birthday party ideas, Newy with Kids is the best website for local parents to find local kid-friendly activities and information 24/7.