The fences came down at Honeysuckle Park in Newcastle today and it's now available to use. The former industrial maritime land at Honeysuckle is now a harbourfront park with a maritime-themed play area developed by the Hunter & Central Coast Development Corporation. Will this foreshore area be known as the Pirate Ship Park?
Taking centre stage is the ship play structure complete with shade cloth. The steel pillars holding up the shade cloth are protected with padding to protect little ones.
There's also plenty of room for kids to crawl under and hide in the structure. With softfall flooring, it's comfortable for little ones.
As well as a small slide, it has multiple climbing nets plus a rope bridge.
In terms of age suitability, although the playground is great for kids up to 7 or 8. Just be aware that there are open spaces on the ship structure so supervise your little ones to avoid them falling off. 3+ is probably the best age for the ship.
There's even binoculars kids can look through on the ship and on the little boat. (Bring sanitiser wipes if you're concerned about germs to wipe them before use).
There's also plenty of room for kids to crawl under and hide in the structure. With softfall flooring, it's comfortable for little ones.
Next to it is a small boat perfect for kids to sit in and imagine that they're on the water! They can turn the ship's wheel and look through the attached binoculars. Cute spot for a photo!
There are also stepping stones shaped like ship bollards. Close by is the mini ship wheels to play with.
There's also a dolphin rocker for kids to climb on and move back and forth.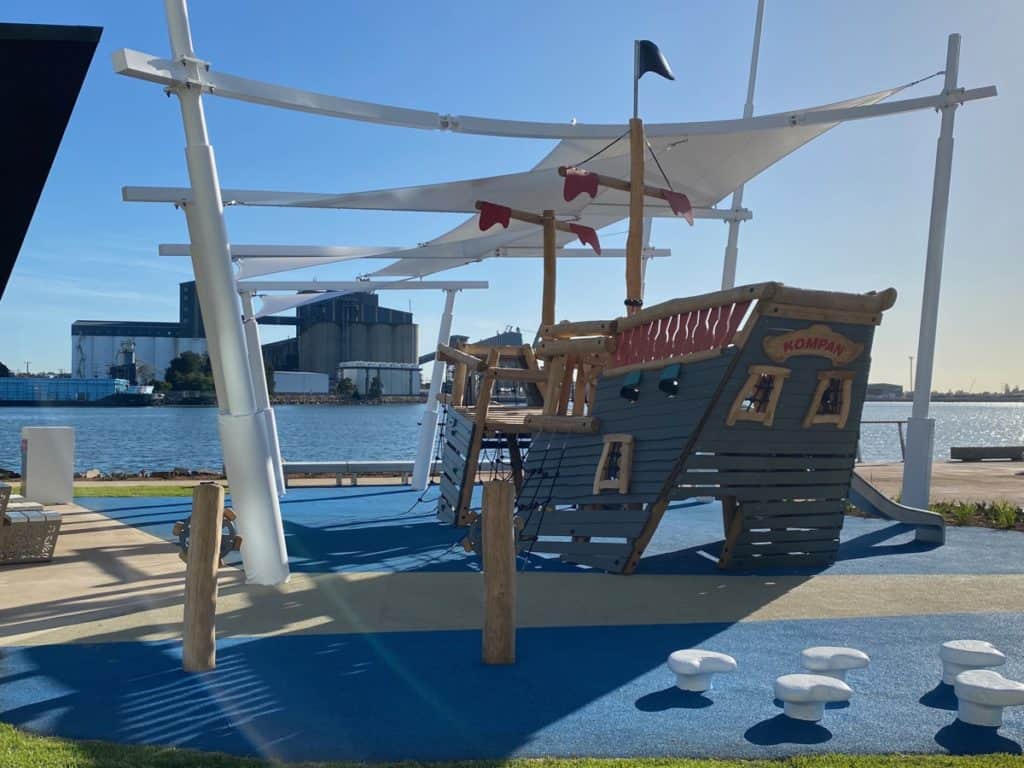 Next to this park is a shaded barbecue area with picnic seating. Bring a lunch or bring some snags to cook up! There are water refill stations so bring refillable water bottles. As you can see from the photo, there is plenty of undercover seating.
It's actually just one of three barbecue areas. Head west and you'll see another barbecue area separated by lots of lawn. Perfect if kids want to run around or kick a ball!
Here you'll find artwork of red and green channel markers similar to what you'll see in the harbour. There are plaques below the channel markers which have details of different ships on it. Something fun for kids to read!
In this area, you'll find sandstone seating at the harbour's edge. It's a great spot for kids to climb all over the rocks and parents to enjoy the views and watch the activity on the working harbour. Just be sure to supervise your kids at the water's edge.
The area is beautifully landscaped with native trees, including banksia, tuckeroos and pines and plenty of seating.
Near to the playground is a waterfront promenade. Even though it's fenced, still supervise your kids around this area.
Bring your bikes and scooters as you can bike from Wickham Marina all the way to Honeysuckle Park and even continue along Newcastle Foreshore to Nobbys Beach.
Watch our video of Honeysuckle Park
Good to Know
Address: Honeysuckle Park is located on the harbourfront in front of Lume Apartments in Honeysuckle
Getting There: You can walk or bike from Newcastle Interchange or catch the light rail to Honeysuckle tram stop. Parking is free on Saturday and Sunday at the parking lot at 42 Honeysuckle Drive near Wickham.
Bring: Refillable water bottles, picnic blankets if you want to sit on the lawn, bikes and scooters.
Public Toilets: Nearest public toilets are in Honeysuckle in the Boardwalk building (1 – 3a Honeysuckle Drive).  The entry is between MoneyPenny and Harbour Bar (formerly called Silo). The toilets are open from 6am – midnight. It's approximately 400 metres walk from the playground to these toilets.
Water Fountain: Yes
Picnic facilities: Covered picnic tables
BBQ: Yes. There are lots of barbecue facilities.
Cafe Nearby: Tons of cafes and restaurants to choose from in Honeysuckle. A local mum Cherie told us that The Kingfish Newcastle has great kids meals for $8. Honeysuckle Hotel also has kids meals as well.
---
Find on map
You might also like:
Play or Skate at Stockton Active Hub
Enjoy an Urban Oasis at Centennial Park
Enjoy Ocean Views & a Fun Playground at King Edward Park
Started in late 2012 by a local mum, Newy with Kids has grown into a thriving go-to family guide for the Newcastle, Lake Macquarie & Hunter region. Parents visit the Newy with Kids website to find things to do with babies, kids and teens. Whether it's local attractions, upcoming events, kids eat free, school holiday activities or birthday party ideas, Newy with Kids is the best website for local parents to find local kid-friendly activities and information 24/7.